Date & Time

Multiple Days: 12/06/2014, 12/07/2014 10:00 AM to 4:00 PM

Fee Information

$5 per vehicle

Contact Us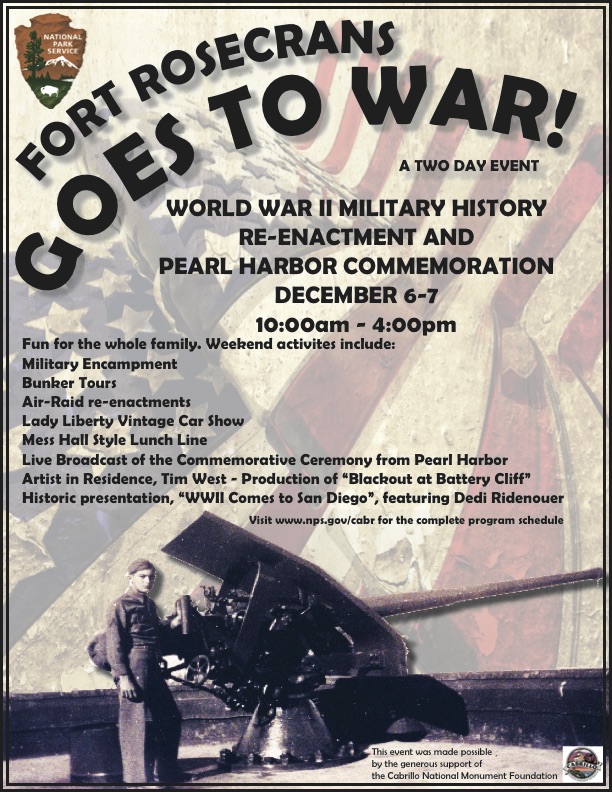 Join WW2 Living History re-enactors in the military history exhibit and tour a coast artillery bunker as they reenact the attack on Pearl Harbor and the United State's entry into the Second World War. On December 6 and 7, from 9AM-4:30PM, the National Park Service at Cabrillo National Monument will host a World War II Living History event to commemorate this pivotal moment and its impact on San Diego. Visit the Schedule of Events page for more information.
History will come alive as Cabrillo National Monument is transformed back into 1940s Fort Rosecrans. Historical re-enactors will represent the men and women of the US Army and members of the 19th Coast Artillery. World War II vehicles, tents, and various displays will be set up around the park. Historic structures, including the army radio station and one of the observation bunkers, will be open for viewing. Don't just learn history, live it. Join Cabrillo National Monument for this unique opportunity to understand and commemorate San Diego's important role during the early days of World War II.
Cabrillo National Monument, located on Point Loma at the south end of Catalina Boulevard, is open daily from 9:00 AM until 5:00 PM. For additional information call 619-557-5450 or TTY 619-222-8211, or visit our web site at http://www.nps.gov/cabr/. Contact the park for additional information about special events.