Date & Time

05/16/2015 9:00 AM to 11:00 AM

Fee Information

A current $3 Daily Park Pass, Annual Park Pass, or an America the Beautiful Pass is required!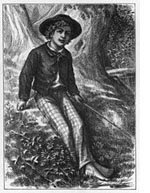 Hey kids, Tom Sawyer and Huckleberry Finn didn't use fancy fishing gear on the Mississippi nor will we at the old fishing hole. We'll provide fishing poles made of river cane with a cork bobber and a hook on the end of the line waiting to be baited. All that's left to do is to swing the hook out into the water, relax, and wait for the fish to start biting. You may hook a catfish, bream, or bass. We are not responsible for any tall tales. Don't forget to take a break from the fishing to learn about a healthy aquatic environment.
Make sure you dress for the weather wear warm comfortable outdoor clothes in layers. Don't forget to bring some insect repellent, sun screen, and a camera to take a picture of your trophy catch.
Note: The $3 Daily Park Pass is not required for vehicles displaying a current Annual Park Pass or an America the Beautiful Pass!
Reservations are required; please call 678-538-1200 to make your reservation, space is limited!