Place
Women's Building, San Francisco, CA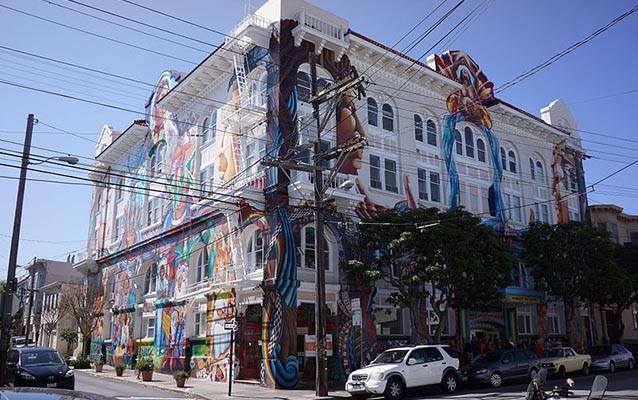 Location:
3543 18th Street, San Francisco, CA
Significance:
Social History: Women's History and Social History: LGBTQ History, and Ethnic Heritage: Asian, Black, Hispanic, and Native American.
Designation:
Listed on the National Register of Historic Places on April 30, 2018
The Women's Building is important in the areas of Social History: Women's History and Social History: LGBTQ History, and Ethnic Heritage: Asian, Black, Hispanic, and Native American.

The Women's Building (TWB) in San Francisco's Mission District represents a powerful physical embodiment of the values and achievements of second wave feminism during the mid to late twentieth century, and the movement's efforts to secure social justice and gender equality for women and other minorities (LGBTQ/racial/ethnic). As one of the first and longest tenured women-owned and women-operated women's centers in the U.S., TWB represented a significant, high-profile model for the establishment and operation of similar facilities nationwide.

Women's Centers have been identified by scholars as an extremely important property type associated with the context of 20th century women's history and second wave feminism. In San Francisco, TWB not only served as home to the San Francisco Women's Center's (SFWC) diverse programs, but it also provided essential incubator space for other fledgling organizations and collaborative projects associated with women's issues, LGBTQ concerns, and racial empowerment that bridged across multiple social themes.

Some of the organizations that operated from TWB include:
La Casa de las Madres, San Francisco's first shelter for battered women
The Women's Foundation of California
Gay Latino Alliance
The Women's Philharmonic
ACT UP/San Francisco
Bay Area Teen Voices
Lesbians Against Police Violence
Somos Hermanas
Women's Art Project
Lavender Youth Recreation & Information Center (LYRIC)
SF Women's Switchboard
Third World Women's Alliance
Lilith Theater
Women's International League for Peace and Freedom

A selection of events and artists showcased at TWB include:
Memorial for Harvey Milk
Sweet Honey in the Rock, 1979
Celebration of Black History Month, 1980
Pride Dance, 1981
Harvey Milk Birthday Celebration, 1992
Jewish Feminist Conference, 1982
Gloria Steinem, 1983
Lesbian Chorus, 1985
Alice Walker: Visions of the Spirit, 1988
Perseverance: Lesbians of Color Conference, 1988

A sufficient body of scholarship has developed to establish second wave feminism as a social movement critical to U.S. history. The Women's Building is exceptional in this history for the scale of its ambitions, which match the large social hall it purchased in 1978 when it was founded, and for the breadth of social issues it has addressed. The period of significance for the resource is 1978 to 1994. The period of significance captures the beginnings, formation, and consolidation of TWB, culminating with the creation of the major mural project, Maestrapeace, which visually communicates the organization's mission of supporting and celebrating women across time and around the world.
Last updated: March 19, 2019