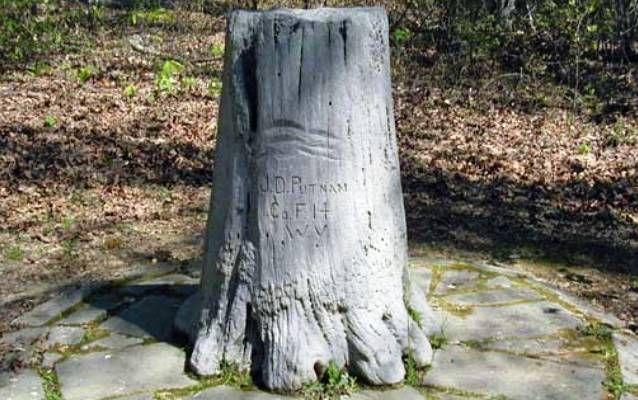 Quick Facts
Location:

Shiloh, TN

Significance:

Marks the site of where John D. Putnam was buried following his death at the Battle of Shiloh

Designation:

National Park, National Register of Historic Places

OPEN TO PUBLIC:

No
Private John D. Putnam, Company F, 14th Wisconsin Infantry, was killed on Monday, April 7, during a charge against a Confederate battery. He was buried where he fell, at the foot of a young oak tree. Thomas Stone, one of the burying party, suggested that his name be carved into the tree sufficiently low so that in case the tree were cut down the name would remain.

When the national cemetery was established, Putnam's body was removed to it. Because of the precautions of his comrades in 1862, his is one of the few graves marked with full name, company, and regiment.

In 1901, the Wisconsin Shiloh Monument Commission visited the field to select a site for the State monument. They found that the tree had been chopped down, but that the stump remained with the name of Putnam still legible. The stump was removed to the state capitol in Madison (where it was destroyed by fire in 1904) and the Commission resolved to erect a facsimile of it at the original site. The Wisconsin Commissioners chose this spot because of its absolute correctness as to the position of the regiment. They decided to reproduce the stump in granite and to place it on the exact spot where the original had stood. This unusual monument to a private was dedicated on April 7, 1906.