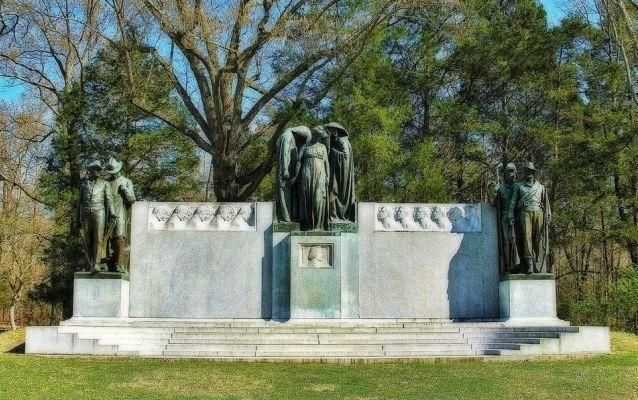 Quick Facts
Location:

Shiloh, TN

Significance:

Erected to honor all Confederate troops who fought in the Battle of Shiloh

Designation:

National Park, National Register of Historic Places

OPEN TO PUBLIC:

No
This monument, designed and sculptured by Frederick C. Hibbard, was erected in 1917 by the United Daughters of the Confederacy in memory of all Southern troops who fought in the battle.

In the center of the massive pedestal is carved the bust of Gen. Albert Sidney Johnston, the Confederate commander who was killed during the afternoon of the first day.

At the extreme right, the figure in front represents the Confederate infantryman who has snatched up his flag in defiance of the Northern army. The figure to his rear is the artilleryman, who is calm as he appears to gaze through the smoke of battle.

To the left, the figure in front represents the cavalryman. His hand is spread, indicating frustration. He is eager to help, but cannot penetrate the heavy undergrowth. The figure back of the cavalryman represents the officers of the Confederate army. He has his head bowed in submission to the order to cease firing when, it seemed, had it not been given the first day, there might have been a Confederate victory.

The central group represents a "Defeated Victory." The front figure, representing the Confederacy, is surrendering the laurel wreath of victory to Death, on the left, and Night, on the right. Death came to their commander and Night brought reinforcements to the enemy, and the battle was lost.

The panel of heads on the right represents the spirit of the first day. How hopefully and fearlessly the 11 young Confederates rushed into battle! The panel of heads on the left represents the second day of the battle and the sorrow of the men, now reduced to 10, over the victory so nearly won and so unexpectedly lost.