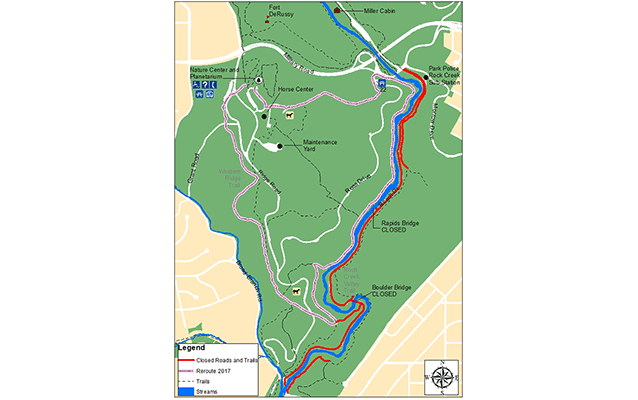 Quick Facts
Location:

Loop. Parking available at Nature Center

Significance:

Hike through forest and creek-side ecosystems

OPEN TO PUBLIC:

Yes
Note: This hike replaces the Boulder Bridge Hike while sections of the trail are closed during the Beach Drive Rehabilitation Project. Please obey all closures for your safety and the safety of others. For more project information:  https://www.nps.gov/rocr/learn/management/beach-drive-rehabilitation.htm.

Overview: This 3.1 -mile loop hike travels through the forest and along the creek. President Theodore Roosevelt frequented this area of the park 100 years ago.  
 Follow the route identified by pink tape wrapped around wooden posts and along the trail.
 
Directions:
From the Nature Center, walk south/back through the parking lot toward the Horse Center.
Take a sharp left into the
Horse Center and keep left.
Head past the small parking lot towards the corral. Look for the dirt trail to the left of the corral. Walk to the creek.  
Heading downstream/right, listen to the fast-flowing water—i.e., rapids. This is the fall zone, a geologic transition zone where the Piedmont Plateau (harder rock) meets the Atlantic Coastal Plain (softer, sedimentary rock).
After hiking along the creek for a ½ -mile, enjoy the view from the center of Rapids Bridge. DO NOT CROSS RAPIDS BRIDGE.
Continue walking parallel with the creek for ½ -mile. Keep left at the next two intersections. Upon reaching the third intersection, turn right.
Cross Ridge Road. Walk past the fenced horse corral.  
Follow the pink tape and green blazes of the Western Ridge Trail to go north. Follow the "foot- traffic only" signs.
After ¾-mile, the trail seems to end at Picnic Grove 13 and a grassy field. Cross the field and the two roads. Hike up the hill to the Nature Center.