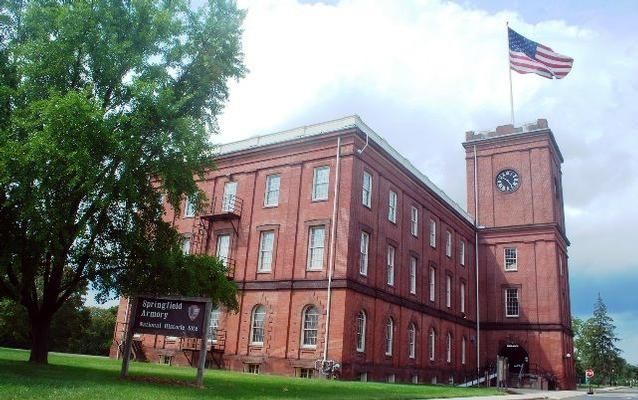 Quick Facts
Location:

Springfield, MA

Significance:

The Springfield Armory Main Building stored many thousands of rifled muskets used in the Civil War.

Designation:

National Park, National Historic Landmark, National Register of Historic Places, HABS/HAER/HALS

OPEN TO PUBLIC:

Yes
The Springfield Armory, located in the City of Springfield, Massachusetts, was originally one of two U.S. government factories established for the manufacture of military firearms. It was founded in 1794 and operated continuously until 1968.

The Main Arsenal Building was built between 1847 and 1851 at the west end of Armory Square. Its purpose was to store the weapons manufactured in the neighboring Armory buildings. At the beginning of the Civil War, this building contained a large inventory of older Springfield rifled muskets, such as the Models 1855 and 1842, and even the Model 1812. These were brought out of storage and distributed to newly-formed Union regiments, but eventually replaced as newer models became available.

One such model was the Springfield 1861. Within a year of its introduction, the Springfield Model 1861 rifled musket became the most common small arm carried by Union infantrymen in the eastern theater of the War. Union armies in the west were slower to obtain these rifles and they were not widely used there until the middle of 1863. By the end of the War, the Springfield Armory was producing 200,000 Model 1861s per year and private manufacturers almost as many. Along with a revised 1863 model, the Springfield Model 1861 was the last muzzle-loading weapon adopted by the U.S. Army.