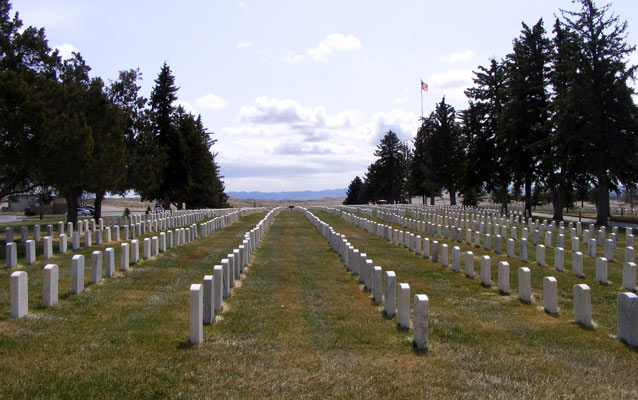 Quick Facts
Location:

Near Billings, Montana

Significance:

This site memorializes the U.S. Army's 7th Cavalry, and the Sioux and Cheyenne in one of the Indian's last armed efforts to preserve their way of life.

Designation:

National Monument

OPEN TO PUBLIC:

Yes
Little Bighorn Battlefield National Monument commemorates the June 25-26, 1876, Battle of the Little Bighorn and its resulting effects on westward expansion. At the battle, Lakota and Cheyenne warriors defeated Lt. Col. George Armstrong Custer and the US 7th Cavalry. Preservation of the battlefield provides the historical context of the European American and American Indian conflict, as well as a cultural reminder of American Indian ways of life. This is largely accomplished through preservation of the landscape, interpretation of the site and battle, access to museum and library collections, and viewing of memorials and the Custer National Cemetery.

Little Bighorn Battlefield National Monument is in southeast Montana, 65 miles south of Billings, and 73 miles north of Sheridan, Wyoming. Visitors can access the park via an interchange with US Highway 212 (US 212). The national monument contains 765 acres in two separate parcels within the exterior boundaries of the Crow Indian Reservation. The northern parcel is the Custer Battlefield proper and the southern parcel is the Reno-Benteen Battlefield. The two parcels are separated by a combination of non-Indian lands, Indian-allotted lands, and Crow tribal lands. A 4-mile-long national monument road connects the two units.

Little Bighorn Battlefield National Monument preserves in perpetuity the natural and cultural resources of the site of the Battle of the Little Bighorn, fought June 25 and 26, 1876, between 12 companies of the 7th US Cavalry under the command of Lt. Col. George Armstrong Custer, including Arikara and Crow Indian scouts and attached civilian personnel; and allied Lakota Sioux, Cheyennes, and Arapahos encamped along the Little Bighorn River and under the spiritual leadership of Tatanka-Iyotanka (Sitting Bull) and other Lakota Sioux and Cheyenne leaders.

Custer National Cemetery, in the northern parcel of Little Bighorn Battlefield National Monument, memorializes and commemorates casualties and veterans of the Indian Wars (including US Indian scouts and Buffalo Soldiers), the SpanishAmerican War, World War I, World War II, the Korean War, and the war in Vietnam.

The Indian Memorial was dedicated on June 25, 2003, to honor Indian participation in the battle. The memorial's theme, "Peace Through Unity," promotes peace, unity, and friendship among all the tribes that fought at the battle as well as others who visit the living memorial.