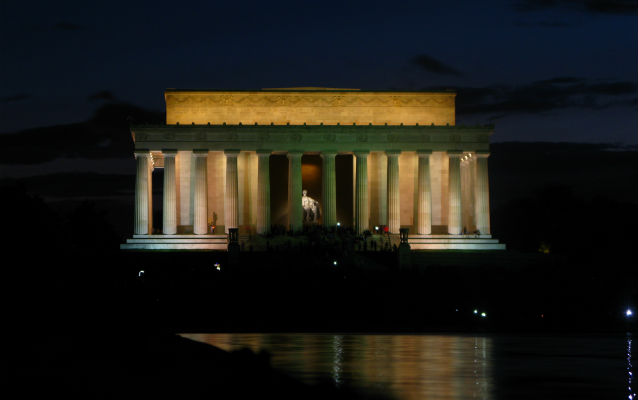 Quick Facts
Location:

National Mall, Washington, DC

Significance:

Memorial to the 16th President of the United States

Designation:

National Memorial

OPEN TO PUBLIC:

Yes
A 19 foot tall statue of President Abraham Lincoln gazes out from the solemn chamber of the Lincoln Memorial, located at far western end of the National Mall in Washington, DC.  Built in the style of the Parthenon, the Lincoln Memorial (1922) has inspired generations. This imposing secular temple is surrounded by 36 columns, each representing a state in the union at the time of the Lincoln's death in 1865. The overarching theme of the memorial is "Union," symbolized by the bundle of rods motif incorporated throughout the memorial.
In addition to the Lincoln statue, the interior of the memorial features murals, and inscriptions of this revered President's most important speeches. Learn more about the memorial to discover how and why it was constructed, the landscape and views that surround it, and the monumental efforts taken over the years to preserve and maintain this iconic site.

Inside the memorial, one cannot gaze upon Lincoln's face without being reminded of the Civil War and slavery. The two speeches engraved in the chamber reference slavery, but the most prominent reference is Jules Guerin's mural, "The Emancipation of the Slave." This mural reflects Lincoln's 1862 Emancipation Proclamation and 'a new birth of freedom' for the nation.
After Lincoln's death, there was doubt whether his legacy of freedom would survive. The Lincoln Memorial was built in an era of segregation and discrimination under the Jim Crow laws. Dedicated as a symbol of "Unity of the States" before a segregated crowd in 1922, the Lincoln Memorial's theme of emancipation was muted.
Two events occurred at the Lincoln Memorial because of Lincoln's legacy as "The Great Emancipator." In 1939, Marian Anderson sang at the memorial to an audience of 75,000 after being barred from singing at Constitution Hall because of her race. This event began the memorial's connection to the continuing struggle for equality. In 1963, Martin Luther King Jr.'s March on Washington for Jobs and Freedom concluded at the Lincoln Memorial. King gave the 'I have a Dream" speech to 250,000 at the Lincoln Memorial. Both of these events are highlighted in a video in the memorial's lower lobby. 
Dedicated in 1922, the Lincoln Memorial is the most visited site on the National Mall. The Lincoln Memorial is a unit of National Mall and Memorial Parks.