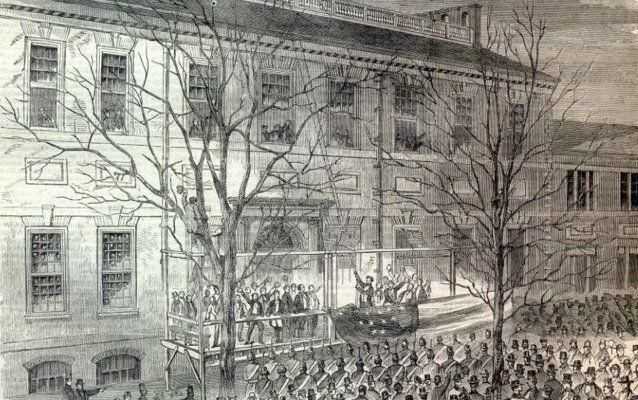 Quick Facts
Location:

Philadelphia, PA

Significance:

Lincoln spoke at Independence Hall en route to the White House; later his body lay in state there

Designation:

National Park, National Register of Historic Places, World Heritage Site, HABS/HAER/HALS

OPEN TO PUBLIC:

No
Constructed between 1732 and 1756 as the State House of the Province of Pennsylvania, Independence Hall is considered a fine example of Georgian architecture. From 1775 to 1783 (except for the winter of 1777 - 1778 when Philadelphia was occupied by the British Army) this was the meeting place for the Second Continental Congress. It was in the Assembly Room of this building that George Washington was appointed commander in chief of the Continental Army in 1775 and the Declaration of Independence was adopted on July 4, 1776. In the same room the design of the American flag was agreed upon in 1777, the Articles of Confederation were adopted in 1781, and the U. S. Constitution was drafted in 1787. The building, inside and out, has been restored to its original late-18th century appearance. Most of the furnishing are period pieces. The "rising sun" chair used by George Washington as he presided over the Constitutional Convention is original.

On his way to his first inauguration, President-elect Lincoln visited Independence Hall on February 22, 1861. Inside, he delivered a speech:

"I am filled with deep emotion at finding myself standing here in the place where were collected together the wisdom, the patriotism, the devotion to principle, from which sprang the institutions under which we live. I have never had a feeling politically that did not spring from the sentiments embodied in the Declaration of Independence. I have often pondered over the dangers which were incurred by the men who assembled here and adopted that Declaration of Independence . . . . It was that which gave promise that in due time the weights should be lifted from the shoulders of all men, and that all should have an equal chance. This is the sentiment embodied in that Declaration of Independence.

"Now, my friends, can this country be saved upon that basis? If it can, I will consider myself one of the happiest men in the world if I can help to save it. If it can't be saved upon that principle, it will be truly awful. But, if this country cannot be saved without giving up that principle---I was about to say I would rather be assassinated on this spot than to surrender it.

"Now, in my view of the present aspect of affairs, there is no need of bloodshed and war. There is no necessity for it. I am not in favor of such a course, and I may say in advance, there will be no blood shed unless it be forced upon the Government. The Government will not use force unless force is used against it."