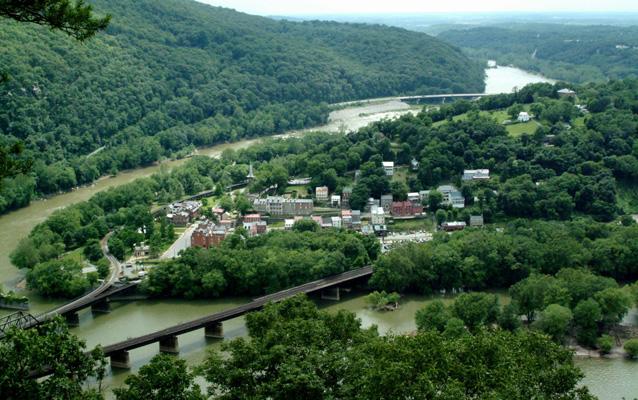 Quick Facts
Location:

Harpers Ferry, WV

Significance:

Base of supply for the Union. Protected transportation corridors along C&O Canal and B&O Railroad

Designation:

National Park, National Register of Historic Places, National Historic Landmark

OPEN TO PUBLIC:

No
The history of Harpers Ferry has few parallels in the America drama. It is more than one event, one date, or one individual. It is multi-layered - involving a diverse number of people and events that influenced the course of our nation's history. Harpers Ferry witnessed the first successful application of interchangeable manufacture, the arrival of the first successful American railroad, John Brown's attack on slavery, the largest surrender of Federal troops during the Civil War, and the education of former slaves in one of the earliest integrated schools in the United States.

During the Maryland Campaign, Harpers Ferry served as a key base of supply for Union operations in the Shenandoah Valley. Also Hapers Ferry protected important Union transportation corridors along the Chesapeake & Ohio Canal and Baltimore & Ohio Railroad.

On September 4, 1862, Robert E. Lee's Army of Northern Virginia splashed across the Potomac River into Maryland at White's Ford. During the next few days, Lee's veteran Confederates settled in around the town of Frederick. The first invasion of the North had begun.

With his invasion, Lee expected some 14,000 Federal troops garrisoning Harpers Ferry and Martinsburg to withdraw northward. In fact, Lee's plans depended upon it - the Confederates needed the Shenandoah Valley as their line of supply and communication while they campaigned north of the Potomac. The Federals, however, refused to withdraw, forcing Lee into a quandary.

Believing that Union forces were in "a very demoralized and chaotic condition" following their defeat at Second Manassas in Virginia, and that Union General George B. McClellan was "an able general but a very cautious one," Lee decided to divide his army into four parts. Special Orders 191 contained all the operational details: three separate columns totaling almost 23,000 men would march on Harpers Ferry, surround the place, and capture or destroy the Union garrison there. With that mission accomplished, Lee's entire army would reassemble at Boonsboro, Maryland - 20 miles north of Harpers Ferry.