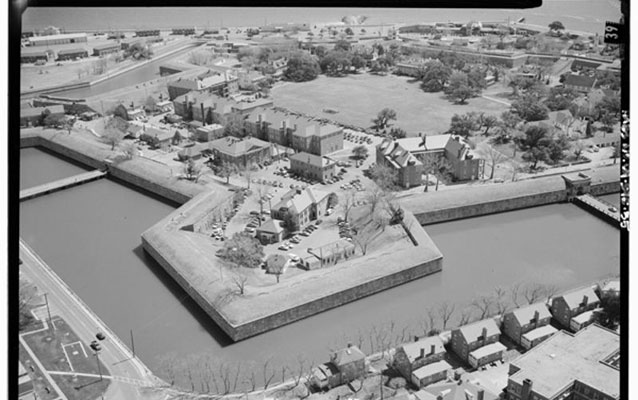 Quick Facts
Location:

Yorktown, VA and Fort Monroe, VA

Significance:

Coastal Defenses built before and after the War of 1812.

Designation:

National Monument

OPEN TO PUBLIC:

No
During the War of 1812, British ships entered the Chesapeake Bay without opposition and raided coastal towns with impugnity. 
The strategic importance of the entrance of the Chesapeake Bay had been recognized since the earliest European settlements in the 1600s. But two hundred years later, the American republic had made little preparation for its defense. Fort Norfolk had been constructed between 1795 and 1809, but at the outbreak of war in 1812, it could not effectively close the bay to British warships. 
The memory of coastal raids and the burning of Washington D.C. prompted America, after the War of 1812, to build an extensive system of modern coastal defense. Among these new fortifications was Fort Monroe, protecting the entrance to the Chesepeake Bay opposite the existing Fort Norfolk.  Fort Monroe is a National Monument, and Fort Norfolk is listed on the National Register of Historic Places, maintained by the National Park Service.