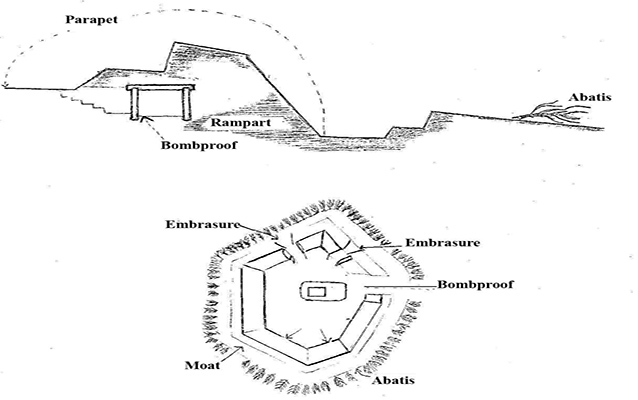 Quick Facts
Location:

Washington D.C., Virginia & Maryland

Significance:

Civil War Fort

Designation:

National Park

OPEN TO PUBLIC:

No
In military terms, earthworks refer to fortifications constructed from dirt. Dirt is a very inexpensive resource, and when used in massive amounts it is the basis for a very strong and intimidating structure.
Although many cultures used earthen fortifications, the Civil War fortifications were based on the European model of the 17th and 18th centuries. Professor Dennis Hart Mahan of the United States Military Academy at West Point, New York, was the leading authority of fortification engineering. He based his book, A Treatise of Field Fortifications (published in 1836 and revised in 1852 and 1860) on the European prototypes. Maj. Gen. John G. Barnard, the chief engineer in charge of the Defenses of Washington, built the field fortifications using Mahan's principles.
Each of the forts built to protect the nation's capital was unique, while following a standard procedure for construction. By the time a fort was completed it was composed of walls that were made of dirt shoveled into berms. The rampart*, was lined with fallen trees. Inside the fort, the bombproofs*, were lined with wood. Guns peeked through embrasures*, cutting the top of the parapet*. A steep slope led down to a dry moat*. Beyond the ditch was anabatis* that pointed outward. The abatis, which lay around the perimeter of the forts and batteries, formed a barricade much like modern barbed wire today.
*Definitions:
Rampart

- interior slope

Bombproofs

 – earth covered rooms that shelter gun crews and officers

Embrasure

s – notches cut in the top of fort walls

Parapet

 – fort walls

Abatis

 – a barricade of fallen trees

Moat -

 a deep, broad trench surrounding a fortification