Place
Antietam Battlefield - Clara Barton Monument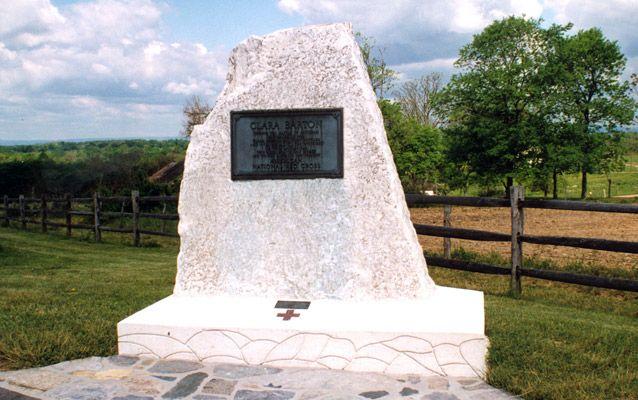 Significance:
Granite monument in honor of Clara Barton's work during the Battle of Antietam
Designation:
National Park, National Register of Historic Places
Historical/Interpretive Information/Exhibits
The stone monument at Antietam Battlefield was dedicated on September 9, 1962 to honor Clara Barton for her heroic actions during the Battle of Antietam. The red cross of bricks at the base of the monument, the symbol of the American Red Cross which she founded after the Civil War, is made of brick from the chimney at the home in which she was born.

Arriving on the north end of the battlefield at about noon on September 17, Barton watched as surgeons wrapped soldiers' wounds with corn husks, having completely run out of proper bandages. She delivered wagons loaded with bandages and other medical supplies, including lanterns, which enabled the army's medical personnel to work through the night.

As bullets whizzed overhead and artillery boomed in the distance, Barton cradled the heads of suffering soldiers, prepared food, and brought water to the wounded men. As she knelt down to give a wounded man a drink, she felt her sleeve quiver. She noticed a bullet hole in her sleeve and discovered that the bullet killed the man for whom she was caring.

Following the battle, Clara Barton collapsed in exhaustion. She also became ill with typhoid fever. Returning to Washington, she soon regained her strength and later returned to other battlefields where she helped care for the wounded and dying.
Last updated: March 21, 2021