Place
Federal Building (50 UN Plaza), San Francisco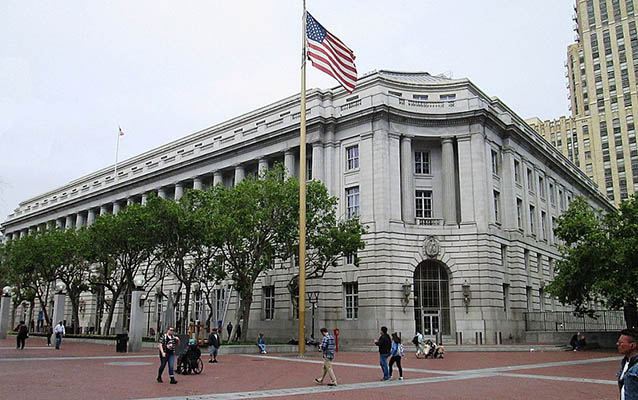 Location:
50 United Nations Plaza, San Francisco, CA
Significance:
Architecture, Politics/Government
Designation:
Listed on the National Register of Historic Places (June 5, 2017). Reference # 100001018
The Federal Office Building (50 UN Plaza) occupies the entire block bounded by UN Plaza, Leavenworth, McAllister, and Hyde Streets in San Francisco, California. Designed by Arthur Brown, Jr., it was built between 1934 and 1936 as part of the city's master plan to revitalize the city's Civic Center after the devastation caused by the earthquake and fire of 1906.
The Federal Building is an excellent example of Second Renaissance Revival architecture, including its distinct horizontal divisions and classical ornamentation like exterior columns. Except for a portion of the McAllister Street elevation (which is faced in terra cotta) the building is constructed of brick and faced in granite.
Important interior spaces include the main entrance and first floor lobby with their terrazzo and marble floors, marble wainscoting, and an ornate barrel vaulted ceiling; the former Board Room for the US Navy on the second floor; the former Collector of Internal Revenue office; and the former naval Commandant's Suite.
The Federal Building has also been the site of important civil rights protests. In 1977, the disability rights community held nation-wide sit-ins to protest the inaction of the federal government in enacting Section 504 of the Rehabilitation Act of 1973. Section 504 prohibited discrimination against people with disabilities in the workplaces and in their programs and activities. The sit-in at the Federal Building lasted almost a month, ending when the federal government finally signed the regulations. Kitty Cone, the organizer of the sit-in at the Federal Building, said this was the first time that "disability really was looked at as an issue of civil rights."
In 1985, people with AIDS and AIDS-related complex (ARC) chained themselves to the door of the building, demanding that the US government increase funding for AIDS-related research, social services, and medical care. This protest was the origins of the AIDS/ARC Vigil, an encampment at the Federal Building that lasted for 10 years.
The Federal Building was individually listed on the National Register of Historic Places on June 5, 2017. It is a contributing building to the San Francisco Civic Center Historic District, added to the National Register of Historic Places on October 10, 1978 and designated a National Historic Landmark District on February 27, 1987.
Last updated: December 3, 2019