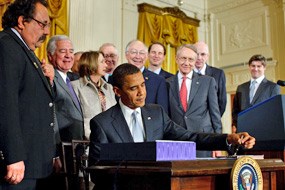 On March 30, 2009, President Obama signed the Omnibus Public Land Management Act of 2009 into law. Among other actions, this Act created the Beaver Basin Wilderness within Pictured Rocks National Lakeshore. The 11,740-acre Beaver Basin Wilderness was proposed as part of the 2004 General Management Plan, and provides permanent legal protection for this part of the lakeshore.
The Beaver Basin Wilderness includes 13 miles of stunning Lake Superior shoreline from Spray Falls on the west to Sevenmile Creek on the east. The wilderness is some 3.5 miles deep.
The Beaver Basin Wilderness offers opportunities for quiet, solitude, wilderness recreation, and spiritual renewal. Individual and small group recreation is available along 8.4 miles of the North Country National Scenic Trail and 8.5 miles of connector trails as well as six backcountry campsites.