Other Green Programs
Campground and Office Recycling
Since 1990 the park has worked in conjunction with community recycling programs. Opportunities for recycling are offered in the lakeshore's campgrounds, visitor centers, and offices. The Lakeshore recycles about 5000 pounds of office paper each year, along with smaller amounts of aluminum, scrap metal, and tires.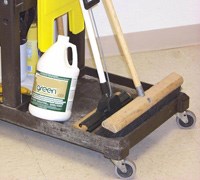 Reduced Toxins
Pictured Rocks National Lakeshore employees have switched to alternative safer green products, replacing the more toxic or harmful items they once used. Supervisors were tasked with reducing toxins in their work places by 10% each year, a goal that was included in their annual performance standards.
This project has been especially effective with cleaning products and auto shop solvents. It has led to almost exclusive use of biodegradable "green" cleaning products, reducing petroleum based solvent use, and a continuing growing variety of "greener" products now used in the workplace.
Green Procurement
Opportunities are continually explored to bring green products and processes into the Lakeshore and its workplaces. Examples of these include:
· four cycle snow machines and boat engines.
· non-mercury containing fluorescent tubes.
· non-hazardous treated woods.
· re-refined motor oil.
· remanufactured printer toner cartridges.
· paper products with 100% recycled content (toilet paper, paper towels, and office copy paper).
Vehicle Fleet Downsizing
Selection of replacement vehicles is based on the smallest vehicle that will serve its primary purpose. Five vehicles have been downsized in the last eight years.

Last updated: April 10, 2015