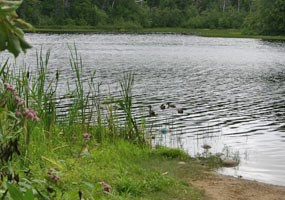 Fire management policies of the National Park Service support Pictured Rocks National Lakeshore resource management goals. An overriding goal is restoration or maintenance of the historic scene and the associated cultural resources, while providing for firefighter and public safety, and the protection of natural and cultural resources and human developments from wildfire.
National Park Service
Director's Order 18 - Wildland Fire Management
requires that all parks with vegetation capable of sustaining fire develop a fire management plan (FMP). There are acres of land within Pictured Rocks National Lakeshore which are burnable and would benefit from periodic, prescribed fires. Land that can sustain fire consists of mixed conifer and deciduous forests, abandoned agricultural fields, bogs and wetlands. The use of prescribed fire as a resource management tool is expected to play an important role in meeting vegetation management objectives as well as a potential tool for controlling or eradicating invasive exotic species.
Currently, the lakeshore does not have a prescribed burning program and therefore does not conduct prescribed fires. Most efforts are focused on wildland fire suppression and monitoring forest fuels.
The fire management plan contains the following program direction:
· To guide the decision-making process where safety, social, political, and resource values are evaluated, and appropriate management response strategies are identified for wildfires.
· To provide a framework for fuels management strategies through the use of prescribed fire, mechanical, and chemical treatments.
· To provide a platform to cooperate more fully in planning and implementing a wildland fire program across agency boundaries.
Program operations included in the plan are preparedness, prevention, suppression, and fuels management. Applicable resource goals and objectives are derived from approved agency resource and general management plans.
The plan is organized to combine the latest scientific knowledge, including regional and local studies, with a hierarchy of policy direction from Department and Agency to the Wildland and Prescribed Fire Management Policy, to accomplish resource and fire management goals and objectives. The intent of the plan is primarily operational in nature.
Compliance requirements with National Environmental Policy Act (NEPA) guidelines have been satisfied through development of a companion environmental assessment. These requirements ensure a prudent assessment and balance between a federal action and any potential effects of that action, leading to consensus between fire managers, agency resource specialists, and the public. Any constraints or limitations imposed on the fire management program are also included.