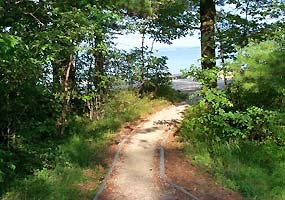 Green Energy Parks Program
In an effort to expand the Lakeshore's sustainable practices program, the park has embraced the President's Green Energy Parks program with special funded grants to use bio-soy fluids and lubricants in various park fleet operations. These soy products meet government "greening" objectives, are safer for employees to handle, and are biodegradable in case of spill or releases.

The Memorandum of Understanding between the U.S. Department of Energy (DOE) and the U.S. Department of the Interior (DOI) states:

Under the Green Energy Parks program, DOI and DOE will implement joint sustainable energy projects throughout the National Park System. The primary goals of the program are to:


Promote the use of energy efficient and renewable energy technologies and practices, and increase use of alternative fuels throughout National Park facilities and transportation systems;



Educate the visiting public about the impact of conventional energy use on natural and cultural resources, the capacity of current and emerging energy technologies to reduce that impact, and the things visitors can do at home to reduce their own energy use.