Award Winning Program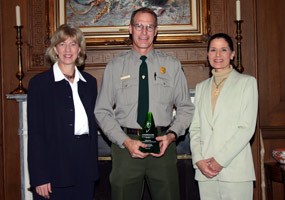 2005 Department of the Interior Environmental Achievement Awards

Sharing Success: Bio-Fluids/Lubricants Program at Pictured Rocks National Lakeshore, National Park Service (NPS), Michigan
Individual Award, Minimizing Petroleum Use
Mr. Chris Case, Facility Manager at the NPS Pictured Rocks National Lakeshore, was recognized for his ground-breaking work institutionalizing the Pictured Rocks comprehensive Bio-Fluids/Lubricants Program.
This program, created and managed by Case, showcases the effectiveness and benefits of bio-based fuels and lubricants use at DOI facilities. For example, his program demonstrated that biodiesel works effectively even in Michigan's cold winter temperatures, which had been a barrier to biodiesel use at some DOI facilities.
His most note-worthy accomplishments is that he shares his knowledge and experiences with other facility managers in DOI and across the Government. Through his far-reaching education efforts, he has presented his lessons learned to nearly 1,000 Government employees and officials who can duplicate his success.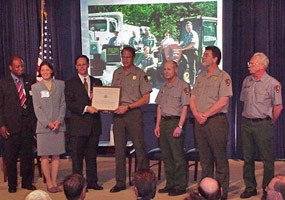 2002 White House Closing the Circle Award

Employees of Pictured Rocks National Lakeshore, National Park Service, Department of the Interior
"A Decade of Environmental Leadership"

On June 11, 2002, Federal employees from across the United States gathered in Washington, D.C., to accept White House "Closing the Circle" Awards for their achievements in pollution prevention, recycling, acquisition of green products and use of Environmental Management Systems. Twenty-six programs were honored for outstanding military and civilian facility efforts. This eighth annual ceremony was held in the White House Eisenhower Executive Office Building.
The Closing the Circle Awards program was established by Executive Order 13101, "Greening the Government Through Waste Prevention, Recycling, and Federal Acquisition," to expand and strengthen the Federal government's commitment to waste prevention, recycling and buying recycled content and environmentally preferable products and services, including biobased products.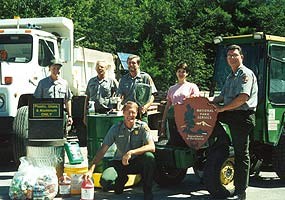 2001 Department of the Interior Environmental Achievement Award
Employees at Pictured Rocks National Lakeshore, National Park Service
The Employees at Pictured Rocks National Lakeshore have worked for the past decade as a community of volunteers to realize the park's commitment to being an environment leader. They created a recycling program in which everyone in the local community can participate. Likewise, they have supported a community-wide used oil collection program.
Solving a chronic problem, the Chief of Maintenance designed an innovative method for rebuilding a septic leach field in an ecologically sensitive area. Subsequently, he shared his design with other local, state and federal park managers by writing about it in a professional magazine.
Biodegradable lubricants (made from vegetable oils) are being tested by staff in the park's marine engines to see if these bio-based oils can help prevent pollution from boating. Solar powered photovoltaic panels were installed to power park buildings, thanks to funds provided through a partnership with the Department of Energy.
Pictured Rocks NL employees are always ready to try something new and make the extra effort to change how they do things, if there is a way to make their operations more resource efficient and reduce their "footprint" on the Earth.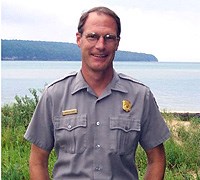 2001 Director's Award for Excellence in Natural Resource Stewardship through Maintenance
Chris V. Case, Facility Manager at Pictured Rocks National Lakeshore, Michigan, received the 2001 National Park Service Director's Award for Excellence in Natural Resource Stewardship through Maintenance. Case has led the Maintenance Division and park staff in the application of "green" technologies at the park. He has researched, developed, and introduced a comprehensive program encompassing sustainable energy, parkwide recycling, "biofluids" conversion, and product inventory and standardization.
His efforts resulted in the conversion of hand-operated campground water pumps to solar, chlorinated well-pump systems. development of a solar power grid system for seasonal employee housing. and conversion of diesel additives and hydraulic fluid to soy-based biofluids in vehicles.
Case has worked closely with Sandia National Laboratory, the U.S. Department of Energy, solar contractors, and the Michigan Soybean Promotion Council in applying these technologies in the park.
Like other award recipients, Case believes that the innovations for which he and the park have been recognized are the result of the work of a team of committed people. "The enthusiasm of the staff is what has made the difference," according to Case. "Three-fourths of our green program success was accomplished without additional cost. It was human energy."
Last updated: April 10, 2015