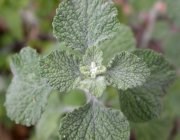 At Pinnacles National Park, out of approximately 625 plant species, about 100 are nonnative. Several of these species are invasive, with the potential for creating serious ecological damage and detracting from the uniqueness of the Park's native plant community. Pinnacles National Park Weed Control Program is focused primarily on horehound (Marrubium vulgare), mustard (Hirschfeldia incana), and yellow star thistle (Centaurea solstitialis). Weed control efforts focus on these three species because of their potential for native habitat destruction. Yellow star thistle and mustard are controlled by working through a sequence of large areas on a monthly basis. Horehound is much closer to being eradicated within the Park and is controlled by monthly visits to 140 small plots. Eradication methods include hand pulling and herbicide application.

Horehound (Marrubium vulgare)
Horehound is an herbaceous perennial plant native to Europe that arrived in North America as a cultivated herb. It reproduces readily by both seed and vegetative means. The seed is readily distributed by wildlife and visitors due to recurved barbs on the seed which attach to fur and clothing. It is likely that animal fur, possibly the fetlocks of horses and the fur of small animals, has transported horehound seeds at Pinnacles because horehound infestations are often located at corral sites and animal burrows. The Park staff has been successfully controlling horehound since the late 1980s.