Artist In Residence
The 2009 Spring Residency application period has ended.

Please check back in late summer when we hope to announce a 2009 Fall Residency.

For more information about the program history and past residencies, please read below.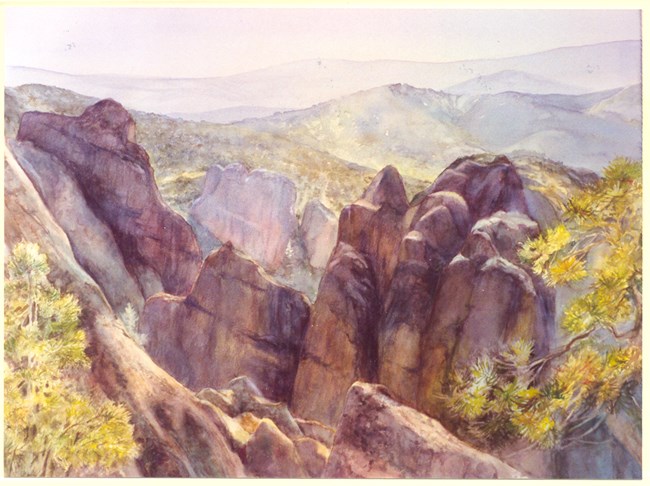 Pinnacles is launching an Artist In Residence program in the Fall of 2008. This program immerses artists in the serenity and tranquility of a park wilderness setting. Far away from the lights, sounds and distractions of city life, artists can find inspiration in the solitude and the surroundings of the park.
Most residencies last about 2 weeks, with the artist expected to produce a few pieces, depending on the medium. Artists also interact with the public, often providing talks about their passion for art and their experience at the park. This program will ultimately involve many art councils, guilds and galleries in the process of selecting the artists and providing locations for displaying their work. We hope to create a solid base of artistic stewards that help the park through their artistic endeavors.
This initial residency will culminate in October, with future residencies planned for the Spring of 2009. All visual artists are encouraged to apply, as this burgeoning program is not as competitive as similar programs at Yosemite and other well-known and well-captured national parks.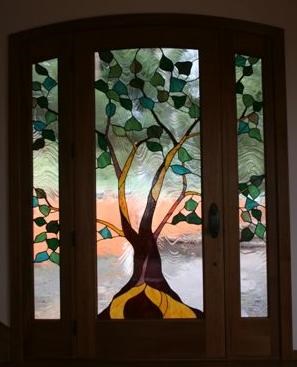 Pinnacles is pleased to announce that Linda Bjornson has been selected as the first Artist In Residence. Linda is a local stained glass artist based out of Aromas, CA. She is heavily involved with many of the art councils and guilds that strive to enrich the lives of the people in the community by connecting them to experiences and exposure with the arts.
A nature lover and an art major in college, Linda has been designing and fabricating with glass since 1979. She is also published, having produced two stained glass pattern books for hobbiests.
Linda will be one of nine featured artists at a Pinnacles Art Show at Galeria Tonantzin in San Juan Bautista. For more information about the show, please read below. For more information about Linda, please visit her website.
Please join us at Galeria Tonantzin for a Pinnacles Art Show from September 19th to October 12th, 2008. This month-long showing culminates with an Artist Reception on Saturday, October 11th, which coincides with both The Condor Classic and The San Juan Bautista Gallery Walk. A portion of all art sold during this month will benefit our non-profit friends group, Pinnacles Partnership.
Featured Artists
Linda Bjornson, Stained Glass
Gavin Emmons, Photography
Steve Borelli, Photography
Gayle Sleznick, Watercolors
Sylvia Nichols, Woodcuts
Patsy Zuniga, Watercolors
Deborah Gansberger, Textiles
Louis Roy, Oils
Bev Hannigan, Textiles

For more information about local artists in San Benito and Monterey Counties, please visit
San Benito County Arts Council
Aromas Hills Artisans
For more information about the Artist In Residence program and this art showing, please e-mail us or call 831-389-4486 ext. 243.
Last updated: February 28, 2015