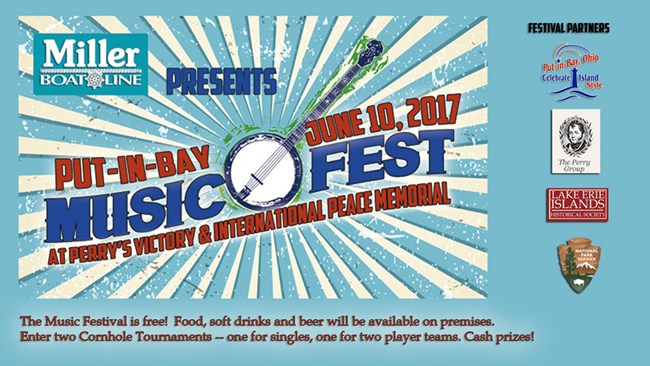 Put-in-Bay Music Festival 2017 brings Bluegrass, New Grass, Zydeco, Folk and Rhythm & Blues to island for free on Saturday, June 10, 2017
Put-in-Bay is bringing bluegrass, new grass, folk, zydeco and rhythm & blues to island visitors free this spring as we kick off 2017 with the first Put-in-Bay Music Festival on Saturday, June 10, at Perry's Victory & International Peace Memorial here on South Bass Island.
"The music festival continues Perry's Victory's ongoing celebration of peace through music at the National Park," said Park Superintendent Barbara Fearon. "We're looking forward to hosting this event annually at the park."
The Put-in-Bay Music Festival opens at 11 am with the final act wrapping about 8 pm.
Miller Boat Line is sponsoring this event which is a collaboration between many partners, including the Put-in-Bay Chamber of Commerce, the National Park Service, the Perry Group (Perry's Victory's Friends Group), and the Lake Erie Islands Historical Society.
Go to Miller Boat Line's website,
millerferry.com
, to check their schedule and start planning your visit. Information about Put-in-Bay, including lodging, dining and live entertainment can be found at the
Put-in-Bay Chamber of Commerce
website.
This year's Put in Bay Music Festival line-up includes Strung Like a Horse, Emily Keener, Mo'Mojo, The Floorwalkers, JP and the Chatfield Boys, The Flyin Jays, The Oh Chays and Put-in-Bay Anthem songwriter and singer Bob Gatewood. Each act will perform 45 minutes to an hour or more.
More information can be found here:
Put-in-Bay Music Festival