Monument View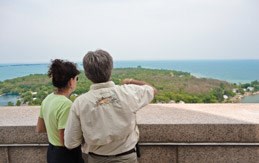 The Plazas, Rotunda, and Observation Deck of the Memorial will open May 16 for the 2020 Season!
Memorial and Observation Deck will remain inaccessible indefinitely due to the size and space limitations of the Memorial column.

During the operating hours and seasons, visitors can travel 317 feet to the top of Perry's Victory and International Peace Memorial. To access the observation deck the visitor must walk 37 steps inside the memorial to an elevator which will bring them the rest of the way to the top. Once on top, they will find themselves on the tallest open-air observation deck in the National Park Service. From the platform visitors can see several Lake Erie islands and across 10 miles to the site of the Battle of Lake Erie. On a clear day Canadian shores and several landmarks in Ohio and Michigan mainland are also visible.
Last updated: April 14, 2020