Carbon footprint is a rough estimate of a complex ecological measure of the direct emission of gases that cause changed in the atmosphere.  You would have to be a
scientist
to make complete sense of it, and that is what you are expected to be in 2017:  a citizen scientist.
Your lifestyle, your habits, products you use, your occupation, transportation, and vacations all contribute to your carbon footprint.  I'm talking about every move you make from the cradle to the grave. Surf on over to
www.epa.gov?climatechange/ghgemissions?ind-calculator.html
  to calculate your own carbon footprint.
The truth is that you probably have a
BIG
carbon footprint.  You could be called "Bigfoot." There are ways to reduce the size of that footprint.  Let's break it down and just talk about traveling and ways to reduce your carbon footprint.  With millions of cars and thousands of airplanes in the United States, transportation contributes a lion's share of greenhouse gas emissions (gases that trap heat in the atmosphere).  Memorial Day Weekend 2017 saw a record-breaking 39+ million travelers hitting the road according to the American Automobile Association.  That's a lot of hot air.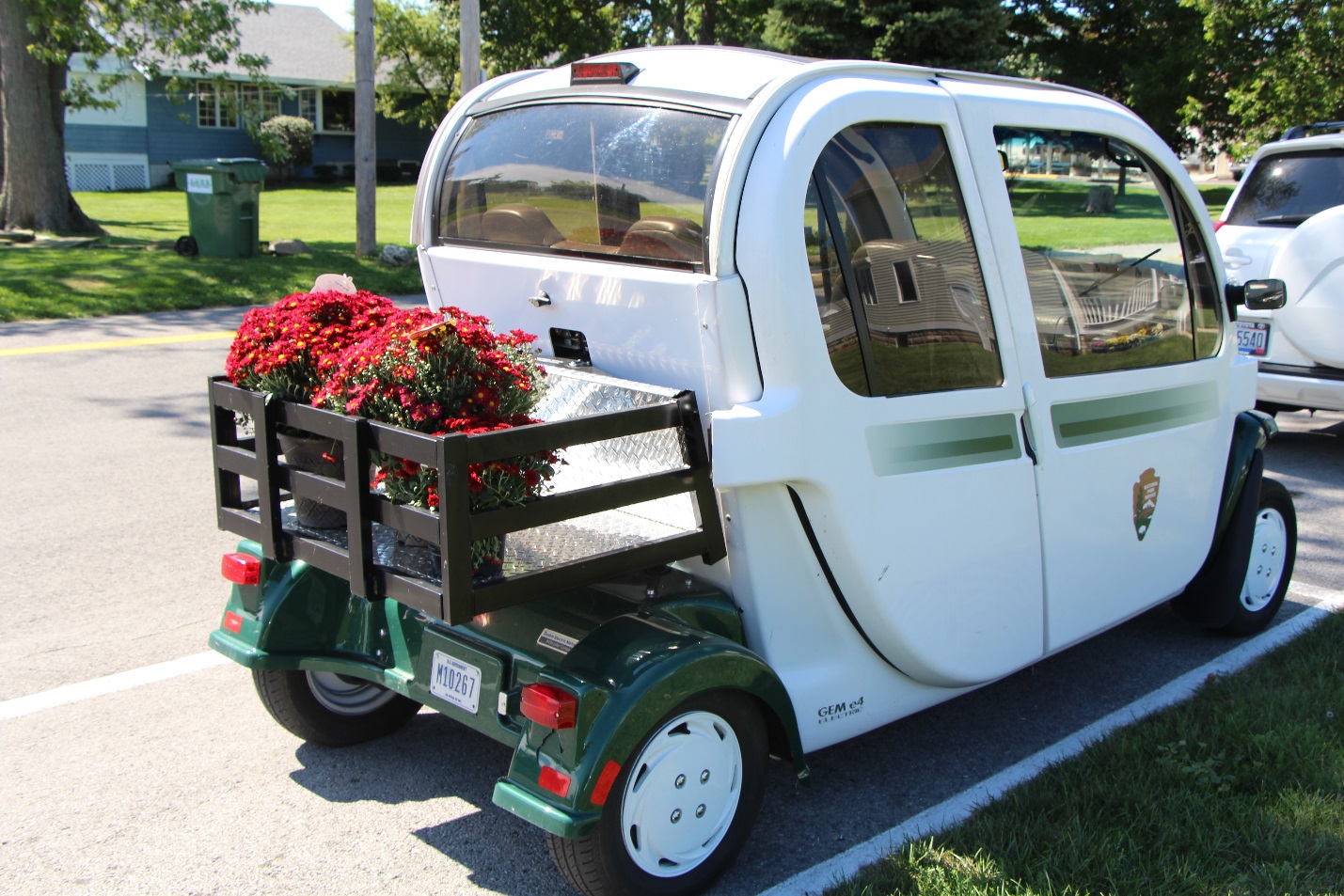 Perry's Victory and International Peace Memorial uses "eco-friendly" electric cars.
I work for the Department of the Interior and they have an "Employee Green Guide" on line that outlines tips for climate-friendlier transportation. The following paraphrased suggestions come from this guide.
TOP 10 TRAVEL TIPS TO REDUCE YOUR CARBON FOOTPRINT
Lighten the load.  Every extra pound reduces fuel economy.
Slow down, you're moving too fast. Speeding and breaking burn an extra 125 gallons of fuel per year. Slow down and save yourself $291.25 per year (at current local gas prices).
Turn it off!  If you are idling for more than 10 seconds, it is better to restart the engine.
Tune up your vehicle before turning it on to save 165 gallons of fuel per year (right-you just saved yourself about $384.45).
Keep your tires properly inflated and aligned.  Over 2 million gallons of fuel are wasted EVERY DAY in the United States by vehicle owners who do not do this ($4.66 million per day or $242.32 million in fuel per year wasted).
MOVE, MOVE, MOVE! Walk run, bike or use public transportation when the car is not really needed.
Use public transportation when possible.
Avoid the busy commute "rush hours" when possible. Travel during hours when there are no back-ups.
Pack lightly when flying. Every 15 pounds of luggage on a 5,000 mile flight will add 50 pounds of carbon dioxide emissions.
Choose non-stop flights when possible. Use environmentally friendly hotels and eat at local restaurants.
Did I catch your attention? By changing your traveling habits, you can save yourself $675.70 in gasoline for the year and reduced the size of your carbon footprint. Good for you. Good for the environment.  Margaret Mead said, "Never doubt that a small group of thoughtful, committed citizens can change the world; indeed, it's the only thing that ever does." Be the change and make a difference.  If we wear out the world we live in, where are we going to live? Catch my drift?