Garlic Mustard is an alien invasive species that was brought from Europe to North America by settlers in the 1860s.  Garlic Mustard was used for herbal and medical use and also to flavor food.  The first record of it in the United States is in Long Island, New York, in 1868 ("Invasive Plants of Ohio", a Collection of Fact Sheets by The Nature Conservancy).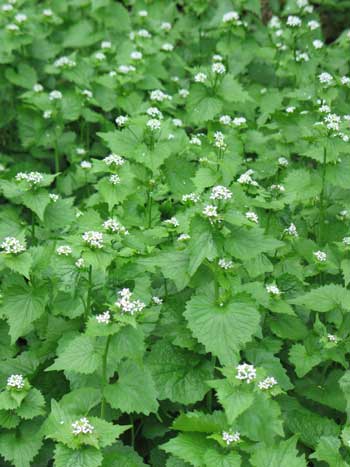 Nearly two and a half centuries later, garlic mustard is now a bully on the block, outcompeting native plants in our woods. Garlic mustard in a sense is causing a type of identity theft, becoming a monoculture that eliminates native plant species.
On South Bass Island, many local plants are losing ground:  Wild Leeks or Ramps, Wild Hyacinth, False Solomon's Seal, May Apples, Common Blue Violet, Large-flowered Trillium, and Jack in the Pulpit are just a few of my favorites that are disappearing.  Their habitat is being taken over by the invasive garlic mustard.  Why is the habitat being taken over?  Garlic mustard is an aggressive, towering plant that outcompetes seedlings below it. Each plants produces millions of seeds and eradicating garlic mustard is a challenge.
Garlic mustard can be treated chemically, but the best method for removal is to pull it in early spring and summer before the white blossoms turn to seed pods.  The trick is to pull the plant, root and all, before the seed pods are ready to pop. The key is to grab the stem close to the root and gently tug.
Once the plants are pulled they should be bagged and sent to the landfill.  According to the Stewardship Network's Garlic Mustard Challenge 2017 web site, composting is a no-go, because you could spread the seed with your compost.  Not good!  Even burning the plants will not kill the small but mighty seeds. Check out
https://www.stewardshipnetwork.org/faq
for more pulling details.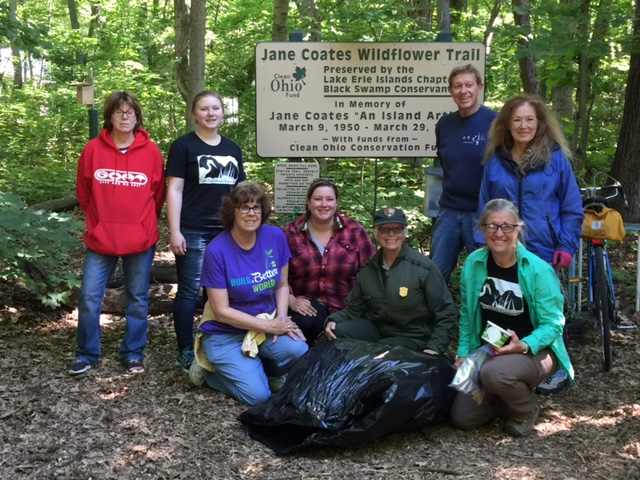 I recently gathered with volunteers at the Jane Coates Wildflower Trail on South Bass Island, near the Village of Put- in-Bay. Conditions were perfect to pull after a rain had loosened the soil.  If you ever pull garlic mustard, wear long pants. Long sleeves and gloves.  Insect repellant, sunscreen, hats and water are also recommended.
First year plants are a small rosette of edible leaves. You can actually crush or cut the first year leaves and make a nice chip dip or pesto.  Use your favorite dip recipe but add a tablespoon of diced freshly washed leaves harvested early in the spring.  The leaves become bitter as the season progresses.  
Early spring rosettes can be harvested for a tasty recipe.  Be sure to harvest wild plants where no chemicals have been sprayed.  Many recipes are available on line.  A favorite of mine is:
Garlic Mustard Pesto Recipe
Chop:  3 Tbsp. garlic mustard roots and 4 garlic cloves
Add:    1 cup chopped wild garlic mustard leaves
¾ cup fresh chopped parsley
1 cup chopped fresh basil leaves
2 cups of chopped walnuts
1/2 cup chopped black olives
½ cup olive oil
½ cup yellow miso