If you would like to follow "catch My Drift":
Click on the letters "RSS" to the right of "ABOUT THIS BLOG"
Click on "subscribe" in new window
Harmful algal blooms (HABs) are the most talked about, worried about, and researched phenomena in the Lake Erie watershed today.  The entire nation and Canada are watching to see the 2017 outcome of algal blooms on Lake Erie.  The chief culprit is a cyanobacteria called
Mycrocystis,
also called "Mike."  Though
Mycrocystis
is called a blue-green algae, it is actually a form of bacteria that produces a toxin called microcystin. Mycrocystin is one of the most toxic poisons found in nature. It can be lethal if ingested, results in liver and kidney damage, damages the nervous system, causes rashes, weaken the immune system and makes a victim nauseous.  And if that is not enough to bother you:  IT STINKS!
Furthermore, when it decomposes, it sinks to the central Lake Erie basin and depletes oxygen and
is causing a growing dead zone at the bottom of Lake Erie.
The increase in algal blooms correlates with increased rainfall washing nutrients from the land into the lake. These nutrients are mainly from agricultural runoff. The Ohio State University's Freshwater Research Center at Stone Lab on Gibraltar Island released their annual forecast for Lake Erie's 2017 algal bloom this past week.  The official forecast predicts a smaller bloom than 2016. The HAB for 2015 set the record. No one will forget the Toledo, Ohio, water crisis of 2014 when use of the Toledo water was banned due to dangerous mycrocystin levels in the treated water.
The HABs begin in the Maumee River Basin and move with the winds. It is just a matter of time before the winds blow the algae to South Bass Island, where they coat the shoreline like a slimy green bath tub ring.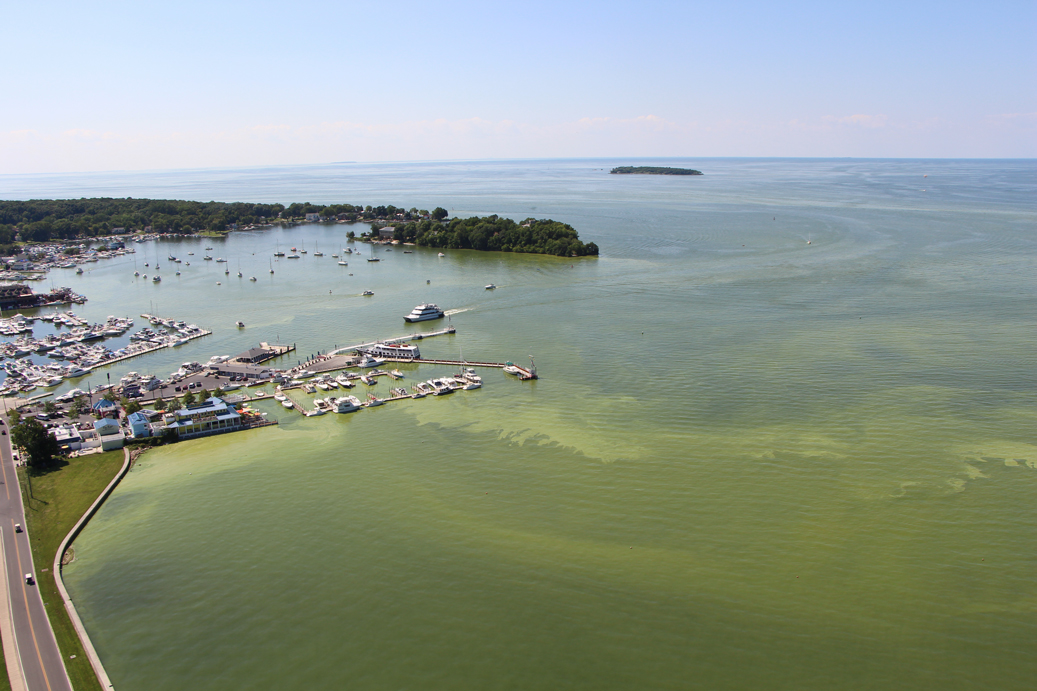 There is good news, however, in the midst of all the rhetoric:
There is an international collaborative effort to reduce the nutrient load in each of the five Great Lakes under the U.S. – Canadian Great Lakes Water Quality Agreement.
Private companies like Scotts Miracle-Gro have eliminated phosphorus from their lawn care products.
Workshops and educational outreach by Stone Lab are putting training and useful tools in the hands of decision-makers.
The citizen scientists are becoming aware and actively outspoken on water quality issues.
Who is the adversary in all of this?  It would be too easy to blame it on the farmers. Right? We all like to eat, so it is ultimately the consumer's responsibility to be a part of the solution as well. For example, no phosphate detergents have been available for a while, but is everybody using them?  So until we all get a handle on the problem of agricultural run-off, and reduce the nutrient load to Lake Erie, take the following steps to protect yourself:
Use phosphate-free soaps and laundry and lawn care products.
Make sure your septic systems are not leaking.
Install low-flow toilets.
Wash cars on the lawn to discourage run-off.
Install rain barrels.
Do not swim in the lake during an algal bloom.
Always rinse off in a shower after swimming in the lake.
Do not let pets drink from the lake if HABs are present.
Do not drink or cook with Lake Erie water.
Seek veterinary help for pets that seem ill after an exposure to HABs.
Get medical help immediately if you become ill after swimming.
Have you discovered that GREEN IS NOT ALWAYS GOOD? In fact it can be highly toxic. This is ONE time we do not want to "go green".  Stewart Udall spoke well when he noted, "Plans to protect air and water, wilderness and wildlife are in fact plans to protect man." Catch my drift?
HELPFUL WEB SITES
https://sites.google.com/a/nps.gov/cast
www.inaturalist.org/projects/cyanoscope