If you would like to follow "catch My Drift":
Click on the letters "RSS" to the right of "ABOUT THIS BLOG"
Click on "subscribe" in new window
The Washington Post January 5 headline reads, "
Invasive Asian Carp Could Overtake Lake Erie.
"  Absolutely! One 22 pound Silver Asian Carp was actually caught 9 miles from Lake Michigan on June 22.  Hello!  Wake up citizens! Contact your representatives and congressmen to support the "Stop Asian Carp Now Act."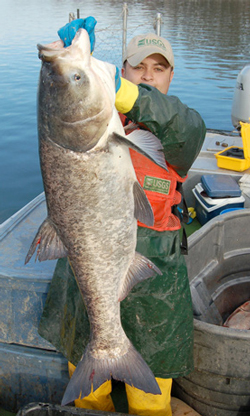 Asian carp were introduced in the 1970's to control aquatic weeds and algae growth. The problem became an invasive species problem almost immediately when flooding introduced them into the Mississippi River. Since then, the Asian Carp are moving across the country up the Mississippi and its tributaries.
These carp become bullies on the block, aggressively outcompeting native species. So what does this mean for Lake Erie?  If Lake Erie gets a sustaining population of reproductive Asian Carp, the future is grim for our perch, bass, trout and walleye. The carp may eventually account for 30%
or more
of fish in Lake Erie. There goes the recreational and commercial fishing industries. Asian carp may already be in Lake Erie. Their environmental DNA has been found in Lake Erie. The future is grim indeed for the 12.9 million dollar tourism industry (according to Sarah Glasser from the Cleveland Plain Dealer)  
What can be done to control the invasive carp population?  Electric barriers seem to just slow down the inevitable invasion. Fish populations can be located and targeted by electrofishing and netting to capture and remove the carp.  The fish are stunned and captured.  However, there are depth limitations and electrofishing works best in shallow waters.
A last resort solution is to apply an aquatic pesticide called rotenone. Rotenone is toxic to fish because it is absorbed easily through the gills.  It is mildly toxic to humans according to the World Health Organization. There may be a link to Parkinson's but the correlation is not fully understood.
The National Park suggests that you CAN do something (
https://www.nps.gov/miss/learn/nature/ascarpover.htm
):
Minimize use of Mississippi locks for watercraft travel (carp can swim upriver when the locks are opened). Consider trailering your watercraft around locks whenever possible.
Don't harvest bait or transport water from infested areas
Dispose of unwanted bait in the trash, NOT in water bodies.
NEVER release fish from one water body into another
Report any new sightings to the National Park Service
Drain and rinse your boat when you are done boating
The best action of all may very well be YOUR action to contact your representatives and congressmen and tell them
"to support the Stop Asian Carp Now Act so that we can prevent a large scale invasion of all five Great Lakes and protect the waters we all depend on for drinking water, recreation, and economic stability." 
Just click and open the following web site:
http://act.freshwaterfuture.org/page/speakout/support-stop-asian-carp-now-act
Now that was not too hard, was it?  We are all in this together.  Let's work together to keep the Great Lakes Great and avoid muddying the waters!  Catch my drift?
HELPFUL WEB SITES
Asian Carp Action Plan:
https://www.nps.gov/sacn/learn/nature/asian-carp-action-plan.htm
https://www.scientificamerican.com/article/asian-carp-woes/
www.asiancarp.us
/