2023 Annular Eclipse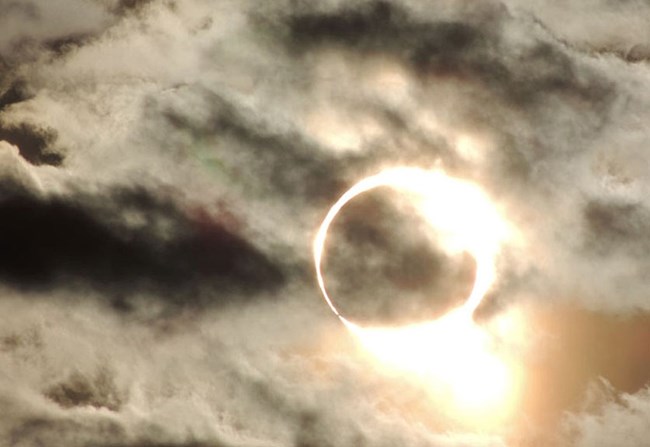 Ring of Fire Eclipse at Petroglyph National Monument
On the morning of October 14th, 2023, Petroglyph National Monument will fall in the direct path of an
annular eclipse
. Unlike a total solar eclipse, the moon will be farther away from the Earth than usual in its orbit, allowing for a ring of visible sun, called an annulus, to peak out from behind the moon during the peak of the eclipse. This "Ring of Fire" is where the annular eclipse gets its name from.
Where Can I View the Annular Eclipse at Petroglyph?
The entirety of Petroglyph National Monument will be in the direct path of the eclipse, however, due to the extremely limited parking in the monument we are asking visitors to stick to these four locations for eclipse viewing:
Information Center
Rinconada Canyon
Boca Negra Canyon
Volcanoes Day Use Area
Parking is first come, first served and the parking lots will close once they have reached capacity. Regular park hours apply.
The partial eclipse will begin at 9:13 AM and end by 12:09 PM. In Albuquerque, New Mexico the duration of annularity will be for 4 minutes and 48 seconds with the maximum annularity at 10:37 AM.
Annular eclipse viewing locations and available parking.

| Location Name | Address | Regular Parking Spaces | Accessible Parking Spaces |
| --- | --- | --- | --- |
| Information Center | 6510 Western Trail NW | 40 | 4 |
| Rinconada Canyon | 3701 Unser Blvd. NW | 49 | 2 |
| Boca Negra Canyon | 6900 Atrisco Drive NW | 34 | 3 |
| Volcanoes Day Use Area | 35°07'51.0"N 106°46'51.0"W | 36 | 2 |
Eclipse Educational Events at Petroglyph
On October 12th and 13th guest speakers from NASA's Ames Research Center will be presenting information about eclipses. Learn about the different types of eclipses, how and why they occur, and how to view them in a safe manner using proper eye protection.
For more event information at Petroglyph National Monument, please check our
calendar
as it will be continually updated as the eclipse approaches.
Other Local Events and Viewing Locations
Petroglyph National Monument is extremely limited in the number of visitors that we can host at our site, but fortunately the entirety of the city of Albuquerque is in the direct path of the eclipse, and many locations around town are open for eclipse viewing or hosting their own eclipse events.
The annular eclipse will also coincide with Albuquerque's annual International Balloon Fiesta, which significantly increases the amount of visitors to both the city and the monument, so make sure you have a backup location to view the eclipse in case your first choice is unavailable. Luckily, where ever you are in Albuquerque and as long as you are parked in a public parking lot and have the proper protective eye wear, you'll be able to experience this annular eclipse safely.
List of Eclipse Viewing Venues Nearby: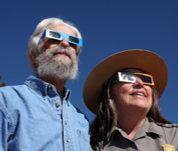 Eclipse Eye Safety
At
no point
during an annular eclipse is it safe to look directly at the sun without proper solar eye protection. There are many different types of tools that can be used to
safely view a solar eclipse
, both directly and indirectly! Eclipse glasses are currently available for purchase from the Western National Park Association park store at Petroglyph National Monument's Information Center.
Last updated: September 15, 2023