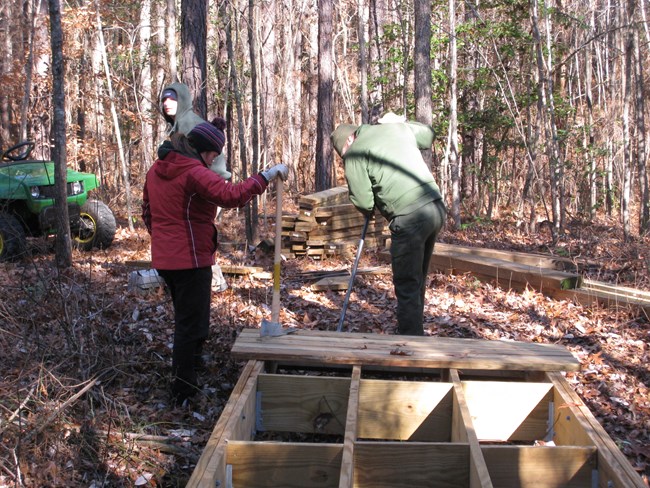 Petersburg National Battlefield is seeking active groups and organizations to adopt trails in the Five Forks Unit in Dinwiddie County. While Petersburg National Battlefield has a long history of volunteer involvement, this is the first time a formal Adopt-a-Trail program has been offered. The Battlefield is offering the Five Forks Unit Adopt-a-Trail program to foster greater community involvement with a new and developing trail system.
The Five Forks Unit of Petersburg National Battlefield was acquired in 1990 in an effort to protect the land where a critical civil war battle was fought that effectively ended the nine-month siege of Petersburg. In 2005, efforts began to develop an eight mile trail system at Five Forks to offer cyclists, hikers, and equestrians a secluded opportunity to enjoy Five Fork's streams, pond, forest, and interpretive exhibits. On October 3rd, 2009 a new visitor center was opened on Courthouse Rd., just south of the Five Forks junction as well as two new trailhead/parking areas on White Oak Rd.
Groups, organizations, business, couples, families, and individuals are encouraged to adopt a trail that they feel will be manageable for them. Adopting a trail requires a long-term commitment of at least one year, but also yields great rewards. In addition to the satisfaction of maintaining a trail, the group enjoys the health and emotional benefits of interacting with nature, and the morale boost that comes with working together as a team. Each group will also be officially recognized with a sign at the trailhead parking lot and on this website.
Adopters will be responsible for the following trail work:
Clearing culverts and water bars of debris
Blazing (painting) trail markers
Clearing and cutting brush
Cutting overgrowth on bridges and boardwalks
Keeping bridges clean of debris
Filling holes and leveling rough patches
Picking up trash on the trail and at parking area/trailhead
Removing fallen trees and hanging branches
Adoptable Trails (found on the The Five Forks Unit Trail Map):
Pine Rock Trail - South (1.04 miles)
Pine Rock Trail - North (0.99 miles)
Corse Trail (0.41 miles)
Pegram Trail (0.59 miles)
Ford's Trail (0.63 miles)
Munford Trail (0.23 miles)
Crawford Trail (0.44 miles)
Griffin Trail (0.89 miles)
Winthrop Trail (0.41 miles)
Steuart Trail (0.64 miles)
Devlin Trail (0.64 miles)
Adoption Guidelines:
Perform least two Work Days a year with six months between visits

No chainsaw or power equipment use

Dispose of found recyclables properly

Report items lost or found to the Five Forks Visitor Center on Courthouse Rd. and/or to the Adopt-a-Trail Coordinator

All group members must follow state and federal laws and regulations while performing Program service
Interested groups are asked to please contact the Adopt-a-Trail Coordinator, Tim Blumenschine, at the Petersburg National Battlefield Resource Management Division. Mr. Blumenschine can be reached by his e-mail address: Tim_Blumenschine@nps.gov or by calling his office phone at (804) 732-0171 ext. 303.