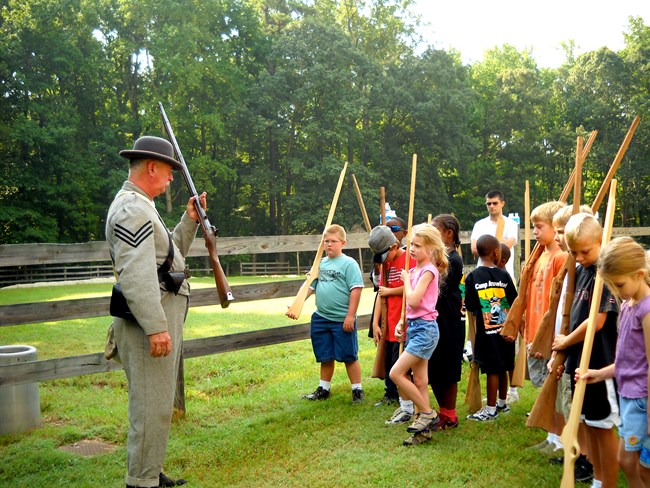 Petersburg National Battlefield's 4th annual Arrowhead Day Camp will be accepting applications for Summer 2012 in March 2012.

The program, which is designed for children 7 - 12 years of age, takes children a step back in time to learn about the life of a Civil War soldier. Arrowhead Day Camp offers a hands-on approach to science and history as participants sign enlistment papers and prepare themselves for an outdoor adventure. As soldiers, campers will dress in uniform, perform marching drills, build shelters, towers, shoot water cannons, and create flags. As scientists, they will pull on their rubber boots to perform biological water tests in the stream and learn about archeology in the trenches. There will also be plenty of hand-on crafts and projects.
Dates for the 2012 camps will be posted in February 2012

The fee for "Arrowhead Day Camp" is only $15 per child and each session will consist of a maximum of 20 participants. For reservations and further information about the "Arrowhead Day Camp" schedule, please contact Petersburg National Battlefield at (804) 732-3531 ext 204. Registration forms will be available in February 2012. You can also email our Education Specialist.
Petersburg National Battlefield was established in order to commemorate the campaign, siege, and defense of Petersburg, Virginia, in 1864 and 1865 and to preserve for historical purposes the breastworks, earthworks, walls or other defenses or shelters used by the armies.