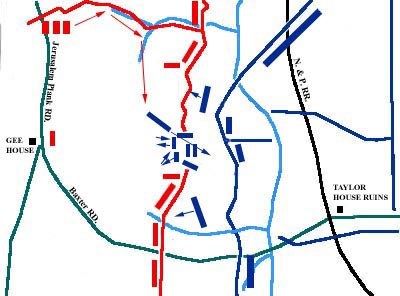 8:30 am
Though the Federals outnumbered the Confederates, they were unable to advance from the crater or easily retreat from it as the Confederates made both routes killing fields.
The Fourth Division of the the IX Corps, which was comprised of USCT regiments, were the last to enter the action. In this, their first engagement, they advanced farther than any other Federal unit. The main Confederate counterattack led by Gen. William Mahone (CSA) arrived shortly after this, drove back the USCTs and plugged the gap in the Confederate line.
At 9:30 am, Gen. Ambrose Burnside (USA), commander of the IX Corps, recived orders to call off the attack and any more support to the Union soldiers in the crater. The soldiers in the hole did not learn of this until 12:30 that afternoon.