The Crater: Mid-Morning to Climax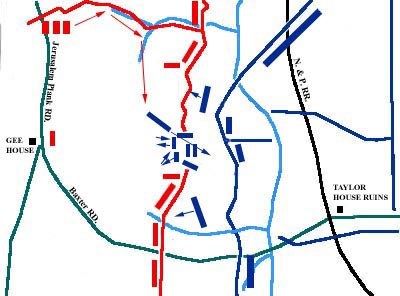 8:30 am
Though the Federals outnumbered the Confederates, they were unable to advance from the crater or easily retreat from it as the Confederates made both routes killing fields.
The Fourth Division of the the IX Corps, which was comprised of USCT regiments, were the last to enter the action. In this, their first engagement, they advanced farther than any other Federal unit. The main Confederate counterattack led by Gen. William Mahone (CSA) arrived shortly after this, drove back the USCTs and plugged the gap in the Confederate line.
At 9:30 am, Gen. Ambrose Burnside (USA), commander of the IX Corps, recived orders to call off the attack and any more support to the Union soldiers in the crater. The soldiers in the hole did not learn of this until 12:30 that afternoon.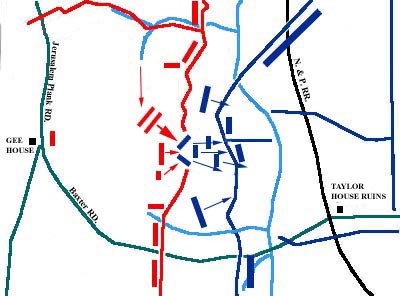 1:00pm
With the gap sealed the Confederates slowly advanced on the crater and, in one final rush, pushed into the hole itself. In what was the fiercest hand-to-hand combat of the whole siege, the Union troops, who still outnumbered the Confederates, surrendered to these determined defenders. As prisoners are being taken to the rear, unarmed black soldiers who had been calling for "no quarter" before were now shot down by some of their captors.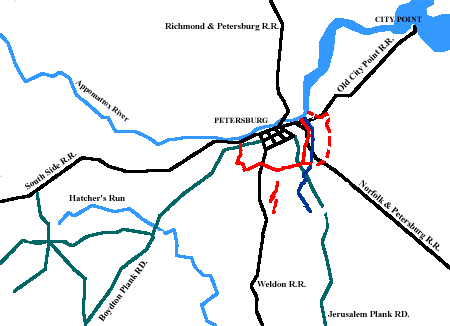 Aftermath
After nearly ten hours of fighting and a combined cost of nearly 5,500 casualties nothing had changed tactically. In what may have been Gen. U.S.Grant's (USA) best chance at ending the Siege of Petersburg instead became a symbol of military debacle.
As for the principal players Mahone was promoted to Major General, Burnside was relieved of command and Grant summed it up best for the Union saying the Battle of the Crater was "the saddest affair I have ever witnessed in the war."
Back to Battles of the Siege
Last updated: February 26, 2015