Opening Assaults: The 15th-17th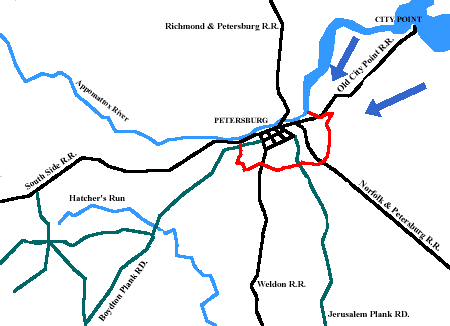 June 15, 1864
After crossing the Appomattox River upstream from City Point, Gen. Smith's (USA) XVIII Corps (14,000 men) advanced and defeated a small Confederate force in a two-hour long morning battle just three miles east of the main Petersburg defenses.

Then after nearly ten hours of scouting and organizing, the Union soldiers attacked Beauregard's forces (2,200) at 7 pm. In two hours of fighting the Union opened up a two mile-long hole in the Dimmock Line.
At 9 pm., with the Confederates falling back, the US II Corp arrived (16,000) but Smith decided to wait until the 16th to resume the attack.
June 17, 1864
Most of the Union effort was focused just south of the fighting on June 15th and their poorly coordinated attacks offset the numerical advantages of the Northern forces by allowing Beauregard to concentrate his troops where needed.
Beauregard had been busy telegraphing Lee for the last several days for support from the main Confederate force near Richmond. Lee was then convinced of Grant's real intentions and rushed reinforcements to Petersburg.
Last updated: February 26, 2015