Petersburg National Battlefield History Club
The Petersburg National Battlefield is proud to announce a partnership with Petersburg High School.
This partnership between Petersburg National Battlefield and Petersburg High School established a history club where participants will work in partnership with interpretation and education staff from Petersburg National Battlefield to produce oral history exhibits, community and park-related history videos, radio segments, waysides, brochures, and other products. The club provides opportunities for students age 13-18 to interpret the park s story by participating in living history programs and producing non-personal interpretive products.
The goals of this partnership are to: Explore the Petersburg community and history; Explore Virginia history relating to Petersburg; Explore US History and make vital connections between community, state and nation; Establish a vital link between the youth of Petersburg High School and the National Park Service; Provide minority youth of Petersburg High with career and personal skills necessary to prepare them for their workforce future.
This partnership will greatly improve student s educational experience and build skills such as public speaking, writing and the use of advanced technologies. History club participants will use the latest computer technology and Information Design software to create brochures, storyboards and other written media. Participants will have access to the latest in digital media and video equipment to gain hands on experience in the creation, editing and production of history videos, radio segments and Pod Casts.
Participants will serve as mentors in Petersburg and Richmond area schools and will perform community service as speakers at park and community sponsored events. Participants will serve as guides for Petersburg National Battlefield during and will be eligible for paid positions as student seasonal rangers. Participants will serve as mentors to new club members and become ambassadors of the National Park Service and positive role models for the youth of Petersburg and Richmond.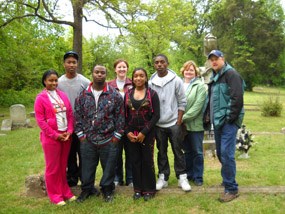 Cemetery Project
The History club has taken on a project this year to do some work at People's Cemetery in Petersburg, Virginia.
In Petersburg, as in other cities, cemeteries were segregated by race and by religion. In 1815, the Petersburg Beneficial Society of Free Men of Color was established to support its free black members in times of sickness and death. Beneficial Trustees purchased their first lot in 1840. Peoples Cemetery, also known as Providence Cemetery, incorporates the second Beneficial Society lot. In 1985, this African- American cemetery was deeded over to the City of Petersburg.
On April 24, 2010, members of the history club began the task of recording individual markers and making an assessment of their condition. Five members of the club, along with their sponsor, members of the National Park Service and a representative of Blanford Cemetery spent 3 hours documenting and recording data. Students were first instructed on the proper way to document and record information on individual grave markers by Martha Atkinson of Blanford Cemetery. Students then recorded, photographed and used GPS units to record locations of the individual stones.
This is just the first of several planned outings to the cemetery. Students will continue the work at the cemetery and their work will include cleaning and resetting of stones.

Last updated: February 26, 2015