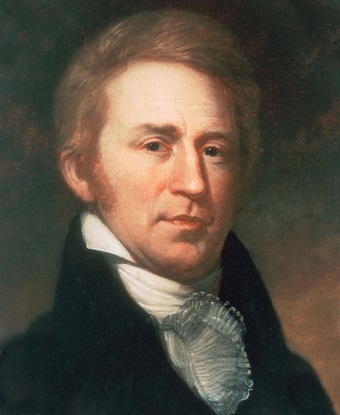 Significance:
Co-led Lewis & Clark Expedition
Place of Birth:
Ladysmith, Virginia
Date of Birth:
August 1, 1770
Place of Death:
St. Louis, Missouri
Date of Death:
September 1, 1838
Place of Burial:
St. Louis, MO
Cemetery Name:
Bellefontaine Cemetery
William Clark was born on August 1, 1770 in Virginia and was the ninth of 10 children. His older brother, George Rogers Clark, was a well known Revolutionary War militia commander. After the war, when William Clark was fourteen years old, his family moved to Kentucky, settling near Louisville.
In 1789, Clark joined the Kentucky militia. He later joined the US Army, eventually becoming an officer. In 1795 he met and became friends with Meriwether Lewis, and a year later he left the army to manage his family's plantation.
Clark was contacted by Meriwether Lewis in 1803 to help lead the expedition west. Clark, with Lewis, prepared for the journey by studying astronomy and map making. In addition, Clark was tasked with assembling and training a group of men that would become the Corps of Discovery. The Corps included an enslaved person named York, whom Clark owned. He, along with Meriwether Lewis, led the Corps of Discovery to the Pacific Ocean between 1804 and 1806.
Upon their return, President Thomas Jefferson appointed Clark the principal Indian agent to the Louisiana Territory, and in 1813 Clark became Governor of the Missouri Territory. In 1820 he lost the election to become governor of the new state of Missouri, and was later appointed Superintendent of Indian Affairs in St. Louis in 1822. He held this post until just before his death in 1838.
Sources:
https://www.pbs.org/weta/thewest/people/a_c/clark.htm
Last updated: December 15, 2021