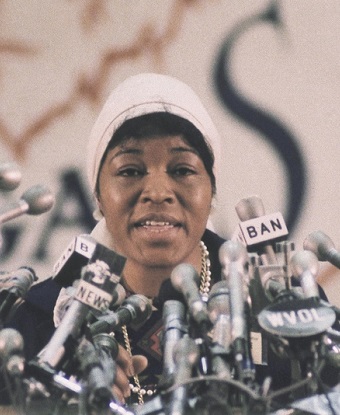 Significance:
Civil Rights Activist, Educator, Administrator
Place of Birth:
Pinehurst, Georgia
Date of Birth:
May 28, 1934
Place of Death:
Jacobi Medical Center, Bronx, NY
Date of Death:
June 23, 1997
Place of Burial:
Hartsdale, New York
Dr. Betty Shabazz (1934-1997) is an American Hero. Born Betty Dean Sanders, she was an American educator and civil rights activist. Shabazz was also the wife of Malcolm X.
Shabazz was born on May 28, 1934, to Ollie Mae Sanders and Shelman Sandlin. Though she claimed to be from Detroit, early records show she may have been born in Pinehurst, Georgia. Her birth certificate has not been located.  Most accounts show that Shabazz's mother abused her, and she was taken by Lorenzo and Helen Malloy when she was 11. Malloy was a prominent business man, while his wife was a founding member of the Housewives League of Detroit. This was a group of African American women who organized campaigns to support black-owned businesses and boycott stores that refused to hire black employees. Helen Malloy was also a member of the National Council of Negro Women and the NAACP. The Malloy's were active members in the Bethel African Methodist Episcopal Church.
Despite their activism, the Malloy's sheltered Shabazz from racism. In a 1995 issue of Ebony Magazine, Shabazz wrote:
"Race relations were not discussed and it was hoped that by denying the existence of race problems, the problems would go away. Anyone who openly discussed race relations was quickly viewed as a 'troublemaker".
After highschool, Shabazz left Detroit to attend the Tuskegee Institute in Alabama. There she encountered extreme racism as she settled into life in the Jim Crow South. Shocked and frustrated, she left Alabama to attend the Brooklyn State College of Nursing in New York in 1953. During her second year, she was invited to a dinner party at the Nation of Islam temple in Harlem. Though she declined to join the organization at that time, it was there that she met Malcolm X.  Shabazz began attending Malcolm's services and in 1956 converted to Islam, changing her surname to X. The X represented the loss of her African ancestry.
Malcolm and Betty were married on January 14, 1958 in Michigan. Together the couple eventually had six daughters. They left the Nation of Islam in 1964, changed their surname to Shabazz, and became Sunni Muslims. A year later, Malcolm X was assassinated on February 21 while giving a speech in New York City. Betty and one of her daughters looked on as angry onlookers caught and beat one of the assassins. Witnesses helped identify two more suspects, all of whom were members of the Nation of Islam.
Shabazz never remarried. She spent the rest of her life raising her daughters alone, aided by royalties from her late husband's book, The Autobiography of Malcolm X. In 1969, Shabazz completed her undergraduate degree at Jersey City State College.  By the early 70s, Shabazz began giving public lectures on the African American condition. Though she never challenged white supremacy like Malcolm X, she fought for education and human rights causes in her own style. Shabazz earned her Master's in Public Health Administration in 1970. After she earned her doctorate in higher-education administration at the University of Massachusetts. Shabazz accepted a position as an associate professor of health sciences at Medgar Evers College, in New York in 1976. She worked as a university administrator and fund-raiser until her death.
On June 1, 1997, her grandson, Malcolm (12), set fire to her apartment. Shabazz suffered burns over 80 percent of her body, and spent three weeks in intensive care. Though she underwent five skin-replacement operations, Shabaz succumbed to her injuries. Malcolm Shabazz, was sentenced to 18 months in juvenile detention for manslaughter and arson. Betty Shabazz was laid to rest next to her husband, El-Hajj Malik El-Shabazz at Ferncliff Cemetery in Hartsdale, New York.
Dr. Betty Shabazz is associated with the Malcolm X House Site in Omaha, Nebraska. Located at 3448 Pinkney Street, this is the home the Shabazz's first lived as a family. It was listed on the National Register of Historic Places in 1984 and is also featured on the Nebraska list of heritage sites.
Last updated: July 7, 2023