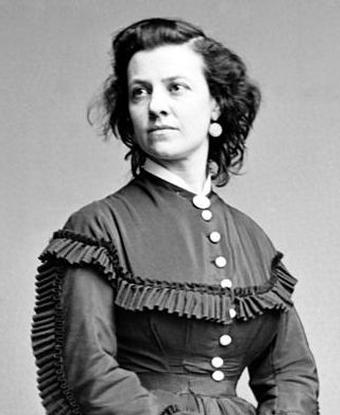 Quick Facts
Significance:

Stage actress who served as a Union spy

Place Of Birth:

New Orleans, LA

Date Of Birth:

June 10, 1833

Place Of Death:

San Francisco, CA

Date Of Death:

December 2, 1893

Place Of Burial:

San Francisco, CA

Cemetery Name:

San Francisco National Cemetery
Born Harriet Wood in New Orleans, her family later relocated to Michigan, though she returned to Louisiana at the age of 18 to become a theatrical performer. She would later travel to New York City in pursuit of her craft, changing her name to Pauline Cushman. She toured the United States in a series of different plays.

While touring with a theatrical troupe in Union-controlled Louisville, Kentucky, Pauline was paid to toast Confederate President Jefferson Davis after a performance. The theater fired her because she was now perceived as a southern sympathizer. In 1863, a new opportunity presented itself, the chance to spy for the Union. She became a camp follower touring with the Confederate Army in Kentucky and Tennessee. Her allure and striking presence aided her in obtaining information that would be of value to the Union Army.

After visiting the camp of General Braxton Bragg of the Confederate army, she managed to discover his battle plans. She aroused suspicions and was finally caught with his battle plans. She was tried in military court and sentenced to death. It is said that she was saved three days before her hanging by the invasion of the area by Union troops. Despite her close call she agreed to continue spying behind the Confederate line. She was awarded the rank of Brevet-Major by General Garfield and commended by President Abraham Lincoln for her service to the Union cause, and became known as Miss Major Cushman.

By the end of the war in 1865 she was touring the country giving lectures on her exploits as a spy. Pauline Cushman exploits became popular and she was featured by P. T. Barnum circus show. Cushman suffered from arthritis and rheumatism in her final years. Racked with pain, she became addicted to pain medication an died from an overdose of opium in San Francisco. She is buried in the officer's section of Golden Gate National Cemetery in the Presidio of San Francisco.
Last updated: September 14, 2017