Margaret "Molly" Brown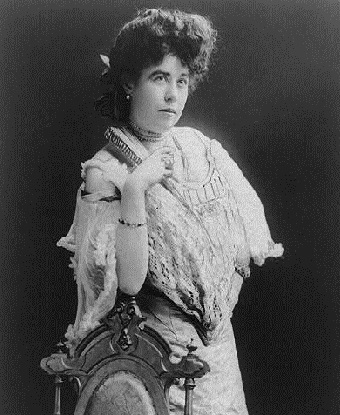 Quick Facts
Significance:

Philanthropist, socialite, and Titanic survivor

Place of Birth:

Missouri

Date of Birth:

1867

Place of Death:

New York

Date of Death:

1932

Place of Burial:

Long Island
She survived the sinking of the RMS Titanic on April 15, 1912 and was known afterwards as the "Unsinkable" Molly Brown. Her house, called "the House of Lions" but historically known as the Molly Brown House, welcomed visiting royalty and international figures. A musical and movie were made about her life, and she was portrayed by actress Kathy Bates in James Cameron's 1997 film Titanic.  Her rags to riches story, and her unsuccessful attempts to break into Denver society, as well as her taking charge of one of the lifeboats of the Titanic, have made her a memorable figure as one of Colorado's most colorful women.

Margaret Tobin (she was called both Maggie as well as Molly during her life) was born in 1867 in Hannibal, Missouri, also the childhood home of American author Samuel L. Clemens (Mark Twain).  The daughter of Irish immigrants John and Johanna Tobin, she came to Leadville, Colorado with her two brothers when she was 15. Within a year of the move she married James J. Brown (1854-1922), a man twice her age. James J. Brown came to Colorado with little or no money and no prior knowledge of minerals or mining, but through industry and self-perseverance became a millionaire. Known as "Johnny" Brown, his success was mainly due to his extraordinary ability in finding and evaluating mineral lodes. It was this ability which made his fortune. When Molly Tobin met James J. Brown, he was involved with many mining properties in Leadville, and later would become involved in mining enterprises elsewhere in Colorado and the West.  Brown's most famous mining discovery was the Little Johnny Mine in Leadville.

At Molly's insistence, the couple moved to Denver. The Browns purchased "the House of Lions" property in 1890. It was Molly herself who selected the lavish, even ostentatious, furnishings and decorations. She was hoping to work her way into Denver society, but her attempts backfired, and the so-called "Sacred Thirty-Six" of Denver completely bypassed her. Snubbed, Molly began a series of journeys to the cultural capitals of the world, primarily Paris, London and New York, to study art, music, design, fashion, languages and other areas of interest. Some of these early trips she made with her husband, but gradually he stayed home more to mind his financial empire, and she went off by herself. They were legally separated in 1909. They had two children, Franklin and Kathy Brown.

Due to these trips, Molly became well-known in international society. She also became famous for her many charities, including contributing to and leading the relief effort for workers and their families after the "Ludlow Massacre" in 1914 when the Colorado National Guard attacked protesting mineworkers and their families at Ludlow. Molly Brown was cited for her hospital work as well as for entertaining the troops during World War I, and she erected the Mark Twain Memorial in her hometown of Hannibal, Missouri. Her efforts also lead to the preservation of Denver poet Eugene Field's home. Her interest in politics put her on the forefront of the women's movement. Her true fame, however, was linked with the greatest shipping disaster known up to that point in history---the sinking of the RMS Titanic.

In 1912, on a return trip from Europe, Molly became a heroine during the sinking of the RMS Titanic on April 15, when the passenger liner struck an iceberg during her first voyage from Southampton, England to New York City. Molly Brown took charge of one of the lifeboats, the famous "Life Boat No. 6," at first helping people aboard, and then keeping up the courage of the survivors with her humor, tough personality, and leading them in song. In an interview given after the lifeboat crew was rescued she shrugged off her efforts by saying "I'm unsinkable," thus coining the nickname associated with her.

 Molly died in 1932 (at age 63). She was buried beside her former husband in their daughter's family plot in Westbury, Long Island.
Last updated: July 24, 2018