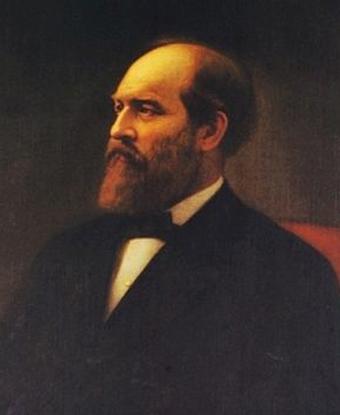 Quick Facts
Significance:

20th President of the United States

Place Of Birth:

Moreland Hills, OH

Date Of Birth:

November 19, 1831

Place Of Death:

Elberon, NJ

Date Of Death:

September 19, 1881

Place Of Burial:

Cleveland, OH

Cemetery Name:

Lake View Cemetery
James Abram Garfield was a teacher, college principal, lay preacher, lawyer, Ohio state senator, Union army general, Congressman, U.S. Senator, and President of the United States for 200 days in 1881.

A self-made man, Garfield was an early Republican Party member who was elected Ohio state senator in 1858 campaigning on the party's anti-slavery platform. He entered the United States Army as a lieutenant colonel of volunteers in 1861 and, although he had no formal military training or experience, advanced to brigadier general by March 1862. He fought in the Battles of Middle Creek, Shiloh and Chickamauga and was promoted to major general in 1863, shortly before being elected to Congress.

Garfield was reelected to Congress eight more times and over his 17-year congressional career, chaired the Military Affairs and Appropriations Committees and sat on the Ways and Means Committee. He was also a member of the commission that decided the disputed 1876 presidential election in favor of Rutherford B. Hayes. He was elected to the U.S. Senate by the Ohio legislature early in 1880 and then elected President of the United States in the fall. He was shot by assassin Charles J. Guiteau on July 2, 1881 and died of his wounds on September 19.
Last updated: February 14, 2018