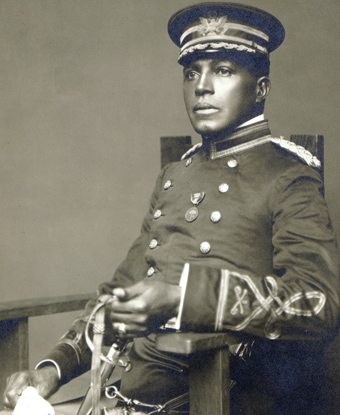 Quick Facts
Significance:

First African-American National Park Superintendent, highest ranking Army Officer during his life

Place of Birth:

Mays Lick, Kentucky

Date of Birth:

March 12, 1864

Place of Death:

Lagos, Nigeria

Date of Death:

January 8, 1922

Place of Burial:

Arlington, Virginia

Cemetery Name:

Arlington National Cemetery
As a soldier, diplomat, and civil rights leader, Charles Young overcame stifling inequality to become a leading figure in the years after the Civil War when the United States emerged as a world power.

Born into slavery, Young and his family migrated into Ohio where he would blossom as a student and go on to become the ninth African American to attend the U.S. Military Academy at West Point. There, he would persevere through overt and egregious racism to become the third African American to graduate from the famed school. His work ethic, academic leadership, and devotion to duty provided a strong base for his achievements in the face of racism and oppression.

Throughout his long and distinguished military career, Young would lead troops in the jungles of the Philippines, in the deserts of Mexico and in the bucolic scenery of this country's national park lands. He also became a pioneering member of the U.S. Army's military intelligence community when he was dispatched several times as an Attaché to Liberia, the Dominican Republic and Haiti in the early 1900's. His impecable career as a commissioned officer in the United States Army made him a popular figure of his time and a role model for generations of new leaders.

Visit the Charles Young Buffalo Soldiers National Monument website to learn more about this incredible man and the legacy he left behind.  
Last updated: May 31, 2018