Anne Spencer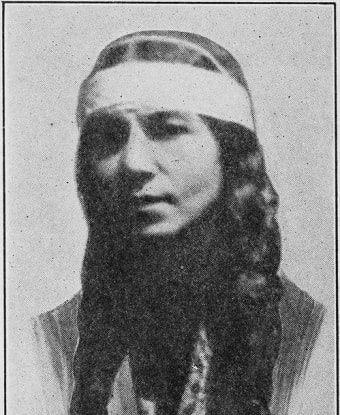 Quick Facts
Significance:

poet, teacher, civil rights activist, librarian, and gardener.

Place of Birth:

Henry County, Virginia

Date of Birth:

February 6, 1882

Place of Death:

Lynchburg, VA

Date of Death:

July 27, 1975

Place of Burial:

Lynchburg, VA

Cemetery Name:

Forest Hills
Anne Spencer was a noted poet, teacher, civil rights activist, librarian, and gardener. An important member of the Harlem Renaissance, Spencer is an American Hero.
Annie Bethel Bannister was born on February 6, 1882 in Henry County, Virginia. She was the only child of Joel Cephus Bannister and Sarah Louise Scales. Both of her parents were part of the first generation of African Americans whose childhood followed the end of chattel slavery. Joel Bannister was born enslaved in 1862.  As an only child, she was the center of her parents affections. Their devotion to her was so deep that it led to their separation. After the separation, Bannister took her mother's maiden name, Scales. Mother and daughter moved to Bramwell, West Virginia. The town was accepting of African Americans and immigrants. This was unusual for the time. Annie lodged with the family of William T. Dixie, while her mother worked as a cook in a local inn. Dixie owned his own barbershop. He and his family were prominent members of the African American community.
While she lodged with the Dixie's, Annie had no chores or schooling. Sarah Scales believed that the local schools were unsuitable for Annie. Without the formal structure of education, Annie was able to develop as a poet. She used the natural world and her solitude in the family outhouse. She stay in the outhouse with a Sears and Roebuck catalog. Turning the pages, she dreamed about becoming a reader. This solitude that she developed as a child would reappear when she was an adult.
Though they were separated, her parents stayed in contact about her well-being. Bannister told Scales that if she did not put Annie in school, he would send for her. Scales sent her to the Virginia Seminary when she was 11 years old. Despite being illiterate for most of her childhood, Annie excelled. When she graduated in 1899, she delivered the valedictorian address. She returned to Bramwell and taught in Elkhorn and Maybuery, West Virginia from 1899-1901.
In 1901, Annie married fellow Virginia Seminary student, Charles Edwards Spencer on May 15. They moved permanently to Lynchburg, Virginia and built their home in 1913. They raised their two daughters, Bethel and Alroy, and a son, Chauncey, at 1313 Pierce Street. Chauncey would later follow in his mother's activism and played a prominent role in World War II. His actions led to the formation of the Tuskegee Airmen.
It was while she was at the Virginia Seminary, that Annie Spencer began writing poetry. Her first poem, "the Skeptic" is now lost. She wrote for the rest of her life, on whatever paper she had handy. Spencer hosted James Weldon Johnson in her home while she was planning to open a Lynchburg NAACP chapter. Johnson was a traveling representative of the NAACP. While he was in Spencer's home, Johnson discovered her poetry. He worked with his own editor, H.K. Mencken, to help her publish her first poem. "Before the Feast at Shushan" was published in the February 1920 issue of The Crisis. Spencer was 40 years old by this time. Johnson was also the one who suggested she use Anne Spencer for her pen name.
Spencer passed away on July 27, 1975. She was 93 years old. The Spencer's are buried in their family plot in the Forest Hills Cemetery. Her home was converted into the Anne Spencer House and Garden Museum. It is dedicated to preserving her legacy and connection to the Harlem Renaissance. Her garden inspired much of her poetry. The house was added to the National Register of Historic Placed on December 6, 1976. It is also  designated as a Virginia Landmark (1976).
Last updated: July 24, 2018