Guided Tours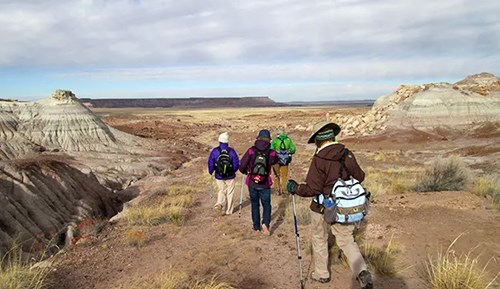 Guided Activities
The year 2022 gives a new beginning to possible activities. We had our popular backcountry hikes beginning in winter to early spring and the paleo demo lab has extended its days. We hope to have more in the spring and summer with an eye towards health and safety. Be sure to check our social media pages (scroll down on any page to the links on the lower right) for information and events. Also, watch for roving rangers and volunteers in areas like Puerco Pueblo and Crystal Forest for on-the-spot information including show and tell items to share!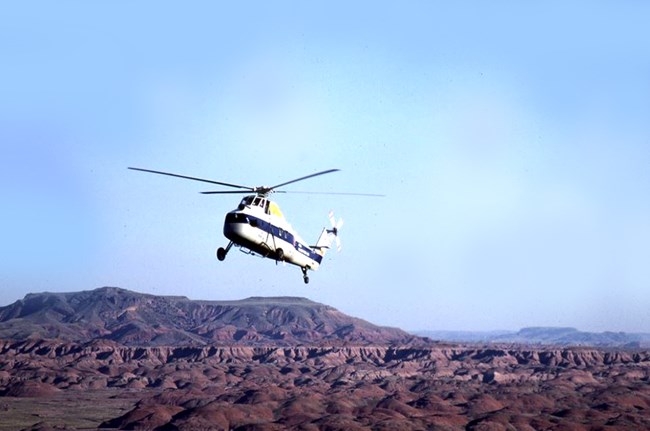 Friday, June 10
9am-12pm
Guided Backcountry Hike: Dinosaur Quarry and More
Enjoy a hike on Friday, June 10 commemorating the anniversary of Gertie the Chindesaurus specimen being airlifted from the Painted Desert in 1985. Hike highlights are Lore's Bridge, Flatiron Petroglyphs, and the dinosaur quarry. Hike is approximately 3.5 miles round trip with no shade. Estimated elevation change of 300 feet. Rated Moderate. There will be a switchback descent/ascent hiking up and down into the Painted Desert. Be prepared with at least 2 liters of water per person, snacks, hat, and sunscreen. Trekking poles, clothing, and footwear suitable for hiking off trail in desert terrain recommended. No pets please on this hike. No children under the age of 12. Limited to 15 participants and reservations are required. Call 928-524-6228 x238 for further information and to make a reservation. Please leave a message if no answer.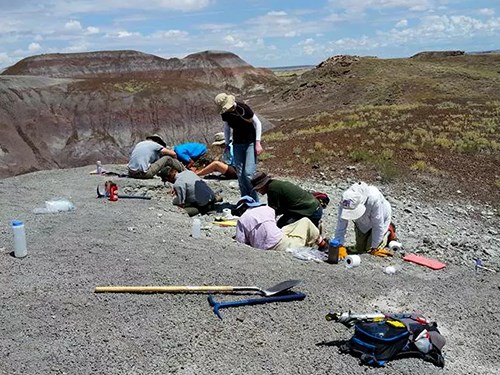 Petrified Forest Field Institute
Petrified Forest Field Institute is proud to offer guided tours and field classes exploring fun and compelling subjects lead by world class guides and experts. https://www.petrifiedforestfieldinstitute.org/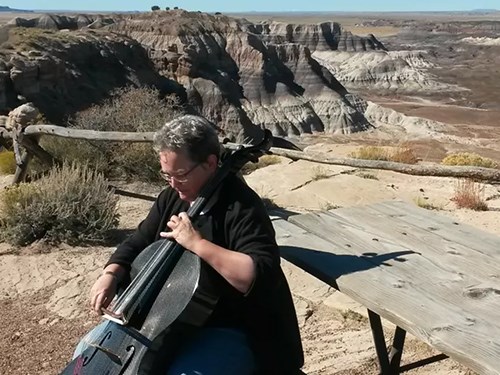 Artist-in-Residence Program
In the Artist-in-Residence Program selected artists spend time living and working in the park, sharing their experiences with visitors.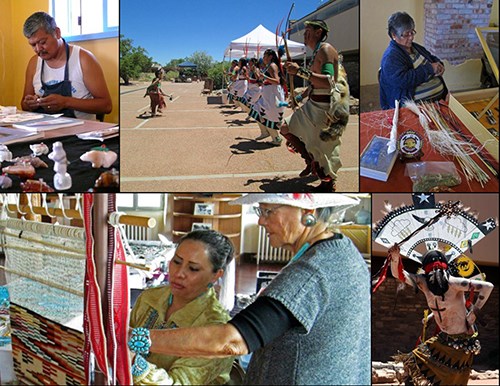 Cultural Demonstration Program
The Cultural Demonstration Program at Petrified Forest National Park provides local artisans with the opportunity to share their cultural and historical connections to the region with park visitors.


Last updated: May 20, 2022