Steamtown

---

Special History Study
AMERICAN ELECTRIC LOCOMOTIVES

DELAWARE, LACKAWANNA & WESTERN RAILROAD ELECTRIC CAR NO. 2505
---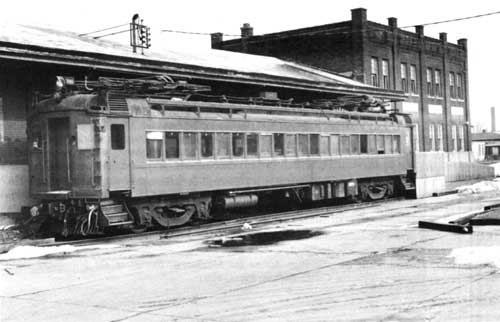 Owner(s):

Delaware, Lackawanna & Western Railroad 2505
Erie-Lackawanna Railroad 3505
Consolidated Rail Corporation 3505
New Jersey Transit Authority 3505
Car Name(s): None
A.A.R. Class: EP
Series: 2500-2640
Type of Car: Electric Passenger Car (MU)
Seating Capacity: 84
Builder: Pullman Car and Manufacturing Co.
Date Built: 1930
Number in class: 141
Number of Wheels per Truck: 4
Length—Inside: 58 feet 10 inches
Length—Over Buffer: 70 feet 2 inches
Length of Compartment—Baggage or Express: Not applicable
Mail: Not applicable
Remarks: Equipped with a pair of roof pantographs which, when raised, drew electric power from overhead wires, this electric car pulled one or more electric trailer coaches in "MU" or "multiple-unit" trains under the operation of a motorman.
---
Delaware, Lackawanna & Western Railroad Passenger Multiple-Unit Motor No. 2505
History: It may be considered more appropriate to treat Delaware, Lackawanna & Western Railroad electric passenger motor car No. 2505 as a variety of passenger coach rather than as an example of motive power, however, it did serve both roles: It constituted the motive power and control cab not only for itself but for a passenger coach coupled behind it, and could serve as the control unit for up to five additional pairs coupled into a string of 12 cars. For the purpose of this report, therefore, No. 2505 will be treated as motive power.
By the end of the first quarter of the 20th century, Scranton's home-grown railroad, the Delaware, Lackawanna & Western, reached from the Hudson River at Hoboken, New Jersey (with its own terminals and ferryboats to serve New York City) westward through Scranton and across Pennsylvania through. Binghamton, New York, and on to Buffalo on Lake Erie, thus connecting the two ends of New York Stale that wrap around northeastern Pennsylvania. The railroad featured branch lines to Ithaca, Syracuse, Oswego, Cincinnatus, Utica, and Richfield Springs in western New York north of Pennsylvania, and to Montrose, Northumberland, and Wilkes-Barre, Pennsylvania, as well as a maze of short branches and interconnecting lines between Delaware Water Cap and Hoboken on the Hudson River.
Incorporated by special act of the Pennsylvania legislature as the Ligetts Gap Railroad, the Lackawanna actually received its real charter on March 18, 1849, and changed its name on April 14, 1851, to Lackawanna & Western. The Delaware & Cobbs Gap Railroad, chartered December 4, 1850, consolidated with the Lackawanna & Western on April 30, 1853, to form the Delaware, Lackawanna & Western Railroad. It was three-quarters of a century later to the very month that management of the Delaware, Lackawanna & Western Railroad decided to electrify part of its system, or to be more precise, to string overhead electric catenary wire and purchase electric motive power.
Still managed by the able William H. Truesdale as it reached its 75th anniversary, the railroad operated 241.37 miles of track in New Jersey, 263.63 miles in Pennsylvania, and 493.42 miles in New York, for a total system of 998.42 miles of line. Much of this was double, triple, or even quadruple track, and the railroad still carried heavy traffic in anthracite coal, as its nickname, "The Road of Anthracite," claimed. But anthracite accounted for a lower percentage of the freight traffic than it once had, the Lackawanna instead carrying heavy tonnage in clay, sand, gravel, stone, bituminous coal, and cement, as well as other mixed freight.
In terms of passenger traffic, while the Lackawanna did operate the usual main and branch line service, its principal business lay in carrying commuters between New York City and their homes in suburban communities to the west in northern New Jersey. Unfortunately, most of this traffic constituted a shorter haul than enjoyed by the commuter runs of the Pennsylvania Railroad, the New York Central Railroad and the New York, New Haven and Hartford Railroad, which also shared in New York City suburban traffic; consequently the Lackawanna's share of the commuter pie proved less profitable.
The automobile had been making serious inroads into railroad passenger traffic for a decade, but the decline in commuter traffic from that cause became precipitous in the railroad's 75th year, when in 1928 alone diversion of passengers to automobiles and bus lines caused a drop of 1,016,000 Lackawanna commuters. Completion of the Holland Tunnel under the Hudson River for use by motor vehicles added to this loss, and struck not only the rail commuter traffic but the Lackawanna ferries across the Hudson.
For some years the Lackawanna management had been considering what role electrification of motive power might play in its future. The Pennsylvania Railroad had been using it for some time on certain lines. Use of steam motive power to handle commuter traffic had reached a virtual saturation point involving increasing congestion of steam locomotives at the Hoboken Terminal, causing many delays. Some alternative for the future was required. Electrification could provide some cost savings as well as eliminate much switching for suburban train assembly, allow more rapid acceleration of the commuter trains, and offer more flexible operations during off-peak hours. Equally important, New Jersey communities served by the Lackawanna, alarmed at the implications for the future of continuing commuter traffic losses on the railroad, pledged to support an increase in fares to offset at least the cost of the improvement.
Thus, after some years of consideration--and even having bought in 1925 cars especially designed so they could be converted from steam railroad coaches to electric multiple-unit coaches--in April 1928 the Lackawanna Board of Directors approved electrification of 67 route miles (158 track miles) of its New Jersey suburban lines at a cost estimated to fall somewhere between $14,000,000 and $18,000,000. The lines to be electrified included the line from Hoboken via Morristown to Dover and those to Montclair and Gladstone. The company planned both to convert existing steel coaches to electric trailer coaches--and had bought 60 cars (50 coaches and ten combination baggage-passenger cars) in 1925 so designed that they could be easily converted if the railroad chose--and to buy new electric multiple-unit motor coaches.
The Lackawanna hired James S. Thorp from the Illinois Central's electrified lines to fill the position of engineer for electric traction. It should not be surprising that the Lackawanna system, therefore, would strongly resemble the Illinois Central system completed in 1926, from the rattan-covered seats in the cars to subtle elements such as the numbering of circuits in the catenary system.
The railroad commenced construction of its electric system in July 1929, setting the foundations for the catenary poles along the track. For this purpose the company employed a concrete mixer mounted on a flatcar to pour the foundations for the steel poles. The catenary system required 10,000 cubic yards of concrete and 8,000,000 pounds of steel.
Wire trains and crews then traveled the three lines being electrified, stringing guy wires, transmission lines, and finally the power wires for the catenary, as well as railroad signal lines. Regular steam passenger and freight service operated throughout this period over all these lines, so construction focused on midday hours between the morning and evening commuter rushes, on weekends, and during long summer days in the hours after the evening commute hours. The New York firm of Hatzel and Buehler built the electrical substations for the Lackawanna.
At Kingsland Car Shops, meanwhile, the Lackawanna shop force converted 118 steel vestibuled coaches built by Pullman between 1917 and 1925, 10 combination baggage-coaches built by Bethlehem Shipbuilding in 1925, five club cars built by Barney and Smith in 1912 and one by Pullman in 1917, and two combination Railway Post Office-Coach cars all into trailer cars, which they then semipermanently mated each to one of the newly built Pullman power cars built in 1930, No. 2505 among them. The railroad first energized a section of catenary on the line between East Secaucus and West End, and used that track to break in the new cars.
Engine and train crews, meanwhile, attended classes to learn how to operate electrically powered equipment. The Hoboken roundhouse force, their jobs terminated by the conversion from steam to electric, retrained as electricians and mechanics to work on the new rolling stock. The Lackawanna retained on the payroll the temporary inspectors whose job had been to ensure during construction that contractors met the construction specifications, retraining them to serve as power dispatchers and operators of the substations.
With electrification nearing completion, the railroad exhibited some of its new electrified rolling stock at Hoboken Terminal on August 21 and 22, 1930, attracting 21,441 people to the exhibit on those two days.
On September 3, 1930, the first passenger-carrying Delaware, Lackawanna & Western Railroad electric multiple-unit train departed Hoboken for Montclair, New Jersey. Nearly all Americans would have known the engineer at the controls: Thomas Alva Edison, wearing a suit and vest with a bow tie and a dark homburg. A photographer recorded the scene with Lackawanna President J.M. Davis to the left of Edison and the railroad's Chairman William H. Truesdale to the right of him. President Davis later sent Edison a print inscribed:
Dear Mr. Edison:

This is the first electric train on the Lackawanna (September 3rd, 1930), which you started and ran for half a mile through the tracks and switches of our terminal observing all signals like the men whose duty it is to do this work daily.

J.M. Davis
President.
It was not until a wintry January day in 1931, however, that the company completed construction of its electric system, and the final changeover from steam-powered commuter trains to electric multiple-unit cars took place on January 25, 1931.
Some of the newly electrified trackage began hauling commuters in 1930, the rest in 1931, with 236 trains daily. The system employed equipment from substation apparatus to traction motors manufactured by the General Electric Company. The railroad purchased alternating current from public utility companies in northern New Jersey and fed it mostly by underground cable to trackside stations where mercury-arc rectifiers converted it to 3,000-volt direct current fed into overhead catenary wires hung above the tracks. The first system of this type in the nation, it required no line-side high-tension transmission lines; consequently, the initial cost of construction as well as subsequent maintenance costs were lowered, and the system avoided vulnerability to delays caused by bad weather.
In the initial installation, the Lackawanna employed 141 new motor cars built by Pullman Car and Manufacturing Company and 141 steel Pullman coaches rebuilt into trailer cars at the Berwick, Pennsylvania, plant of the American Car and Foundry Company. The railroad semipermanently coupled one trailer to each motor, so each two-car train had a control position and motorman's cab at the end of each two-car set. The two-car sets could be coupled together in multiples up to six sets or 12 cars. Low voltage control jumpers plugged into sockets of adjacent cars so one man could control the multiple units throughout the tram.
The Delaware, Lackawanna & Western Railroad assigned the numbers 2500 through 2640 to the new electric motor cars it purchased in 1930 and 1931. Sixth in the series, No. 2505, appeared out of the Pullman shops early in the construction program. Four inches shorter than the coaches built in 1925, the 2500 series seated 84 passengers. Weighing 74 tons, each car like No. 2505 had four 255-horsepower traction motors supplied by the General Electric Company that afforded an acceleration of one-and-a-half miles per second and a maximum speed on the level of 63 miles per hour. Descending a grade, where curves permitted, these cars, whose trucks featured Hyatt roller bearings, could reach 70 miles per hour. The large pantographs on the cars had been designed especially to maintain adequate wire contact through a vertical range of 8 feet, 3 inches, from the normal 24-foot height of the power wires down to 15 feet, 9 inches at Roseville Avenue. No. 2505 came from the first series of commuter cars ever constructed to use 3,000-volt direct current power. Their design had no flaws and as long as they were well maintained, the cars achieved nearly 100 percent availability for use even 30 years after they had been built, an amazing record.
As mentioned, each of these cars had two self-ventilated 235-horsepower series traction motors. These were the lightest of their kind and capacity ever built, 1,500-volt motors designed to operate two in a series per truck on 3,000 volts of direct current delivered from the trolley. All motors were identical, thus interchangeable, and insulated for the full 3,000 volts from the trolley.
One anomaly of the system was that the trailer cars ranged in date of construction from 1912 or 1914 to 1925, and while some of them had low clerestory roofs about the same height as those on the new electric motor coaches, others stood quite a bit higher, creating an irregular appearance when several sets of these coupled together, an aberration that was to remain as long as the cars ran.
Very little changed in the character of the cars or the operation over the years, but the corporate structure under which they operated changed greatly. In 1960, the Delaware, Lackawanna & Western Railroad faced merger with the Erie Railroad. The Erie had originated as the New York and Erie Railroad incorporated in 1832, in a sense a successor or parallel to the Erie Canal on land.
To oversimplify a complex history, that firm became the Erie Railway in 1861, then the New York, Lake Erie and Western Railroad in 1878, and on November 14, 1895, reorganized as the Erie Railroad, which would operate through nearly two-thirds of the 20th century. It would require a small book to detail all of the mergers, acquisitions, and reorganizations that went into the modern Erie. The Erie of the late 1950s operated a main line between New York City and Chicago with major branches to Cincinnati, Ohio; Buffalo and Niagara Falls, New York; and Wilkes-Barre, Pennsylvania, and with many lesser branches both north and south of its main lines. The Erie Railroad had completed dieselization by the end of 1954. It owned 2,014.65 miles of main track and controlled other lines for a total of 2,319.68 miles operated in 1957.
After several years' planning, the Erie and the Delaware, Lackawanna & Western Railroads merged effective October 17, 1960, to form the Erie-Lackawanna Railroad Company, which in turn merged on April 1, 1968, into the Erie-Lackawanna Railway, a holding company incorporated in Delaware one month earlier. The Norfolk & Western Railway controlled that holding company.
As a consequence of this merger, the railroad soon relettered all of the electric cars such as No. 2505 "Erie Lackawanna" on the letterboards above the windows, and renumbered the cars into the 3000 series, No. 2505 becoming No. 3505. Another minor change involved the addition of a red light beneath the headlight on the end of the two-car sets. Under the Erie Lackawanna, the electric commuter service continued much as before, and with the same efficiency and comparative lack of trouble with the system.
Faced with intense competition from truck and bus lines and individually owned automobiles on subsidized highway systems, the railroads in the northeastern United States continued to experience declining fortunes. Bankruptcy rode the rails. It became necessary for the federal government to "bail out" a failing railroad system. To solve the problem, the United States Congress created the Consolidated Rail Corporation, better known as Conrail, as a private profit-making corporation to rescue six bankrupt railroad systems of the northeastern quarter of the country. Conrail arose from the Regional Rail Reorganization Act of 1973, as amended by the Railroad Revitalization and Regulatory Reform Act of 1976. The Consolidated Rail Corporation began operations on April 1, 1976, and took over most of the railroad properties of the Penn Central Transportation Company, the Reading, the Lehigh Valley, the Lehigh and Hudson River Railroad, the Central of New Jersey, and the Erie-Lackawanna. Conrail had 17,000 route miles in Delaware, Illinois, Ohio, Michigan, Maryland, Pennsylvania, Massachusetts, Indiana, Kentucky, Connecticut, Virginia, New York, West Virginia, Missouri, Rhode Island, the District of Columbia, New Jersey, and the Canadian provinces of Quebec and Ontario. Among its New Jersey track miles were those of the former Erie-Lackawanna commuter service, whose operation Conrail now assumed.
Under Conrail, the quality of service and maintenance on the electric lines began to fall; both cars and service deteriorated somewhat. However, Conrail management was not destined to last very long. On July 16, 1979, a public agency, the New Jersey Transit Authority, became the sole owner of the Hoboken Terminal, and a little less than three and a half years later, on January 1, 1983, at a half hour after midnight, the New Jersey Transit Authority took over complete control of all of the commuter operations out of the Hoboken Terminal, including the old Lackawanna electric lines.
New Jersey Transit Authority decided as early as 1980 to rebuild the former Lackawanna electric commuter lines with 25,000-volt alternating current and re-equip them with Arrow III stainless steel air-conditioned cars that it had used for many years, often on old Pennsylvania Railroad electric lines. The target date for the change-over was the Labor Day weekend in 1984. The work involved construction of an entirely new power distribution system with new insulation on the catenary and new signalling systems. The 25,000-volt system had the advantage of operating off the regular commercial-frequency alternating current. As the date of completion of the new system approached, numerous events were planned to celebrate the passing of the old Lackawanna cars. The New Jersey Transit Authority held a farewell party at Maplewood on August 11, 1984, offering free train rides to all and an auction of appealing items of hardware off some of the old cars. The Tri-State Chapter of the National Railway Historical Society operated a fan trip on August 19 that carried 510 passengers on an eight-car train over the entire electric system, returning from Dover behind a diesel-electric locomotive over the non-electrified Boonton line.
The last day of regular direct-current electric operation proved to be Friday, August 24, the final trains departing Hoboken for Gladstone at 7:20 p.m. and departing Hoboken for Dover at 7:30 p.m. Aboard the Gladstone train, Homer Hill, who had ridden the first electric train into Gladstone back in 1931, now rode the last, 53 years later. At Dover, parlor car 3454, relettered Lackawanna" for the occasion, was met with a banner that read, "LAST RUN D.L.W. ELECTRICS/Jan. 21, 1931 to Aug. 24, 1984."
In the week that followed, New Jersey Transit killed the power, hauled commuter trains with diesel electric locomotives and added substitute bus service, and made the final conversion to alternating current for the Arrow cars. The old Lackawanna electrics had reached the end of their line. The New Jersey Transit Authority moved them to storage at Mahwah, New Jersey, pending final disposition. A number of them were expected to go to museums or to tourist railroads.
One of them, No. 3505, originally Delaware, Lackawanna & Western Railroad No. 2505, went to an embryonic electric railroad museum in Scranton, Pennsylvania, and when that project failed, became the property of the Steamtown Foundation.
Condition: Ostensible exterior condition, fair to good; mechanical (and electrical) condition, unknown.
Recommendation: Because Car No. 2505 was built for and operated by the Delaware, Lackawanna & Western Railroad, and because it represents one of the two main alternatives to steam motive power on railroads, in this case especially for suburban service, it is recommended for preservation by Steamtown NHS. Furthermore, as this type of car typically operated in multiple-unit trains of a minimum of two cars, it is recommended that a suitable Lackawanna trailer be selected to be coupled to this car for exhibit purposes.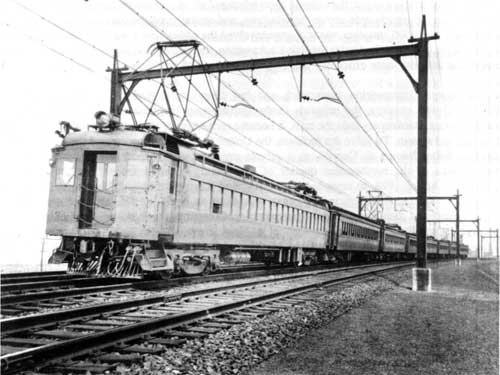 Delaware, Lackawanna & Western Railroad multiple unit electric No. 2501, a sister to Steamtown's No. 2505, posed with seven other units on a newly electrified three track main line when new.
Collection of John W. Barriger, III, St. Louis Mercantile Library.

BIBLIOGRAPHY
---
Coates, Wes. "50 years of Lackawanna Electrics." Railfan & Railroad, Vol. 3, No. 11 (July 1981): 48-53.
Dorin, Patrick C. Commuter Railroads: A Pictorial Review of the Most Travelled Railroads. New York: Bonanza Books, 1967: 60-66.
"Farewell to the Lackawanna Electrics." Railpace Newsmagazine, Vol. 3, No. 10 (Oct. 1984): 12-13.
Hyer, Richard, and John Zec. Railroads of New Jersey. n.p.: Published by the authors, n.d.: 21-37.
Jane's World Railways, 1986-1987. New York: Jane's Publishing, Inc., n.d.: 805-809.
Kessel, William C. "How to Put the Hyphen into Erie-Lackawanna." Trains, Vol. 20, No. 9 (July 1960):18-21.
Meehan, Thomas. 'This Can't Be Milburn: There's No Bar Across the Street." Trains, Vol. 38, No. 11 (Sept. 1978): 28-30.
Moody's Manual of investments, Railroad Securities, 1929. New York: Moody's Investors' Service, Inc., 1929: 276-279.
Moody's Transportation Manual, 1957. New York: Moody's Investors' Service, Inc., 1957: 627-644.
Moody's Transportation Manual, 1973. New York: Moody's Investors' Service, Inc., 1973: 727-749.
Moody's Transportation Manual, 1977. New York: Moody's Investors' Service, Inc., 1977: 280.
"The Night Before the Arrows." Railfan & Railroad, Vol. 5, No. 11 (July 1985): 32-39.
"Railnews: The Last Run." Railfan & Railroad, Vol. 5, No. 7 (Nov. 1984): 28, 29.
Scull, Theodore W. Hoboken's Lackawanna Terminal. New York: Quadrant Press, Inc., 1987.
Taber, Thomas T., and Thomas T. Taber III. The Delaware, Lackawanna & Western Railroad in the Twentieth Century, 1899-1960. Muncy: Thomas T. Taber III, 1981 and 1983: 2 Vols.
Westing, Frederick. Erie Power. Medina: Alvin F. Staufer, 1970: 346-359.
---
---
stea/shs/shs4a.htm
Last Updated: 14-Feb-2002