SEQUOIA-KINGS CANYON

---

The Giants of Sequoia and Kings Canyon
THE GIANTS
of
SEQUOIA and KINGS CANYON
HOWARD R. STAGNER

INTRODUCTION
---
How do the giant sequoias grow? Why do they live so long and grow to such tremendous size? What caused the black scars and the snag tops? How do they die? What are the important trees and groves that I should see? These are the first questions concerning the giant sequoias usually asked by Visitors to Sequoia and Kings Canyon National Parks, and these first questions are the chief concern of this booklet.
You will find this booklet helpful, then, in answering the more important questions about the big trees, and in finding those trees and groves which are most interesting. Perhaps, as is often the case, your curiosity will be further stimulated and you will want to peruse the subject beyond the scope of this booklet. You are invited to visit the museum, to consult with the rangers and ranger naturalists, to accompany them on guided walks through the groves, and to attend the camp fire programs where the big tree story is amplified. Recommended too are the more detailed publications: "Giant Sequoias of California" by Cook, "Redwoods of Coast and Sierra" by Shirley, and "Big Trees" by Fry and White. These are available in the museum, ranger stations and stores in the parks.
Most people, too, like something to take home as a memento of their visit to the parks of the Giant trees. You can't take a sequoia giant home with you. Twenty freight cars would be required to transport the trunk of one of the larger trees. Nor does a cone or a mere shred of bark seem adequate even if the law permitted taking these out of the parks, and emphatically it does not. No sequoia material of any kind may be removed from the parks. This booklet contains a series of photographs which are representative of the scenes you will see in the sequoia groves of both national parks. Let this booklet and its photographs serve as your guide while here, and be your souvenir recalling long hence the days enjoyed in association with beauty and majesty, stateliness and serenity in the groves of giants.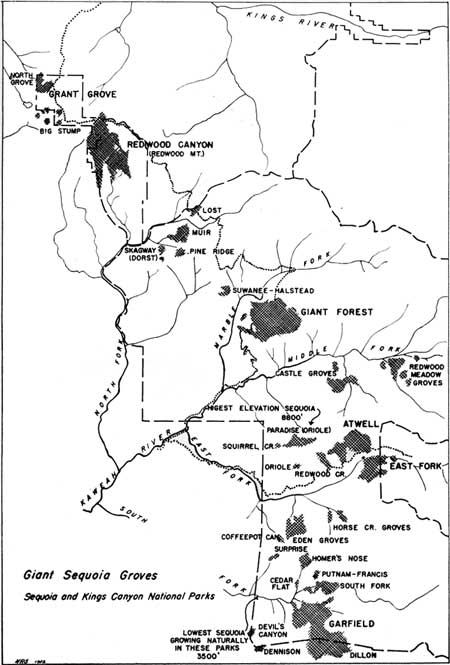 Giant Sequoia Groves, Sequoia and Kings Canyon National Parks. (click on image for an enlargement in a new window)
---
---
seki/stagner/intro.htm
Last Updated: 02-Feb-2007