SEQUOIA

---

Crystal Cave in Sequoia National Park

SOME REFERENCES ON LIMESTONE CAVERNS
---
1. Bretz, J. Harlen. Caves in the Galena Formation, Jour. Geol., Vol XLIV, No. 6, Aug.-Sept. 1938.
2. Bretz, J. Harlen. Vadose and Phreatic Features of Limestone Caverns. Jour. Geol., Vol. L, No. 6, part 2, Aug.-Sept. 1942.
3. Benson, Allen L. The Story of Geology. Cosmopolitan Book Co., N. Y. 1927.
4. Bonney, T. G. The Work of Rain and Rivers. Cambridge Univ. Press, 1912.
5. Bradley, John Hodgson. Autobiography of the Earth. Coward McCann, N. Y., 1935.
6. Chamberlain, Thomas C. and Salisbury, Rollin D. A Text Book of Geology. H. Holt and Co., N. Y. 1923.
7. Croneis, Carey and Krumbein, William C. Down to Earth, An Introduction to Geology. 1936.
8. Davis, W. M. Origin of Limestone Caverns. Bull. Geol. Soc. Amer. Vol. 41 Sept. 1930.
9. Encyclopaedia Britanica, Vol. V, 1945.
10. Encyclopaedia, New International. Vol. IV, Sec. Ed. Dodd Mead & Co., 1925.
11. Fenton, Carol L. Our Amazing Earth, Doubleday Doran and Co., Inc. 1938.
12. Fry, Walter. Caves of Sequoia National Park and Their Discovery, Historic Series, Sequoia Nature Guide Service, Bull. No. 4, Jan. 1925. (Mimeographed)
13. Geike, Sir Archibold, F.R.S., Text-Book of Geology, Vol. 1, McMillan Co., Ltd. London, 1932.
14. Gregory, Ernest Herbert; Keller, Albert Galloway; and Bishop, Avard Longley. Physical and Commercial Geography, Ginn & Co.
15. Grey, Elisha. Natures Miracles. 1899.
16. Lee, Willis T. A Visit to Carlsbad Cavern, Nat. Geo. Mag., Vol. XLV, No. 1, Jan. 1924.
17. Matthes, Francois E., Geol. Mt. Whitney, S. C. Bull. Reprint 1937, and unpublished manuscript on Geol. of Sequoia National Park.
18. Maxon, John H. Fluting and Faceting of Rock Fragments. Jour. Geol., Vol. XL VIII, No. 7, Oct.-Nov. 1940.
19. Moneymaker, Berlin C. Subriver Solution Cavities in the Tennessee Valley, Jour. Geol., Vol. XLIX, No. 1, Jan-Feb. 1941.
20. Norton, William. The Elements of Geology. Ginn & Co., 1929.
21. Pirsson, Louis V. and Schuchert, Charles. A Textbook of Geology, John Wiley and Sons, Inc., 1929.
22. Pohl, E. R. Development of Shafts in Limestone Caves. Proc. Geol. Soc. Amer. 1935.
23. Salisbury, Rollin D. Physiography, Third Ed., Revised, H. Holt & Co., 1929.
24. Schuchert, Charles and LeVine, Clara M. The Earth and Its Rhythms. D. Appleton and Co., 1927.
25. Shiner, Henry Woodburn. An Introduction to Earth History. Ginn & Co., 1921.
26. Swinnerton, A. C. Origin of Limestone Caverns. Bull. Geol. Soc. Amer., Vol. 43, Sept. 1932.
27. Wegmann, Carrol H. and Pohl, E. H. Caves and Their Conservation. Geol. Mem. No. 2, National Park Service, 1939 (Mimeographed)
28. Note: Cave Spiders and Crickets tentatively identified through the courtesy of Dr. W. Dwight Pierce of the Los Angeles County Museum at Los Angeles, Calif.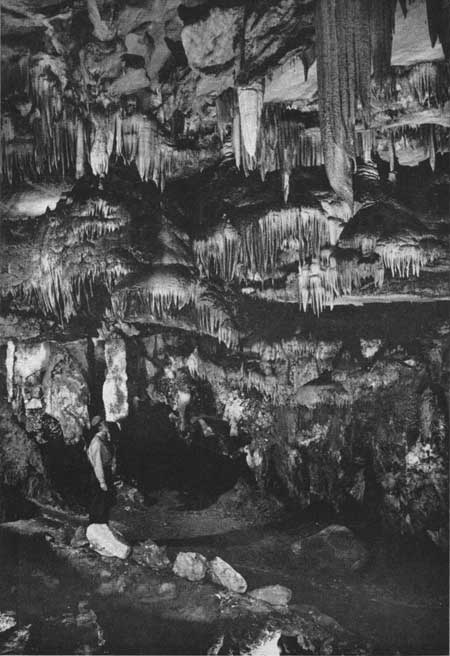 Another scene in Marble Hall, illustrating bedded clay banks in alcove facing ranger and relics of the gravel fill on ledges. Note channels incised in ceiling and many solution remnants of marble.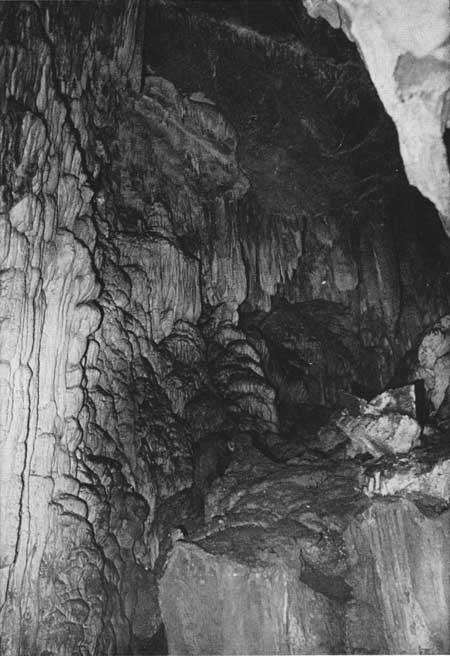 The walls of this overhead balcony are completely covered with cascading flowstone.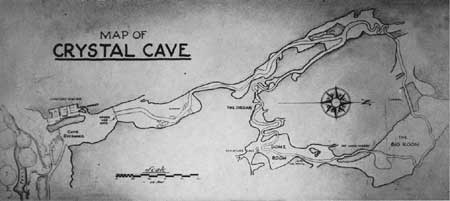 Map of route through Crystal Cave. (click on image for an enlargement in a new window)
---
---
seki/crystal_cave/bibliography.htm
Last Updated: 31-Jan-2007