GROWTH OF WINTER SPORTS
By Milo F. Christiansen,
Supervisor,
Recreational Area Planning Division.
---
Maybe you have stood on the top of a high mountain, and felt the soft beat of rain drops against your face; maybe you have hiked over Nature's wonder trails in the quiet and brilliance of a warm summer sun; maybe you have sat under a tall pine by a stream and listened to the water on its way to the sea. But you haven't experienced some of the finer pleasures offered by Nature until, from the summit of a high mountain, overlooking a white fairyland, you have glided on skis quietly, smoothly, and swiftly down the terrain which is blanketed with soft, clean, white snow.
Until recent years, six months of winter and three feet of snow meant "holin in" for Mr. and Mrs. Average American -- hibernating like the bears. Only under necessity, and after being garbed in several pounds of heavy flannels, mufflers and other wraps, did we venture out. Until recent years, too, one has often heard the expression that Americans take their recreation "sitting down." We had become a population diseased with "spectatoritis." We applauded long and loudly the achievements of a few skilled sports professionals.
Conditions have changed. Increased leisure and expanded recreational facilities have made Americans "doers" instead of "sitters." Recreation participating statistics throughout the country indicate a marked increase in various types of outdoor activities. The greatest increase has been in the field of winter sports. Thousands of youths and adults seek the hills, the mountains, the frozen lakes, ponds, and rivers to engage in skiing, coasting, tobogganing, skating, ice-hockey, snowshoeing, bobsledding, and ice-boating. Like the golf of some years ago, many of the winter sports were considered to be restricted to well-to-do persons. But the transportation companies and the purveyors of sports equipment assisted in popularizing winter sports as a desirable form of active recreation. Newspapers, magazines, movies, and the radio have also done considerable. Many of us in sections of the country where snow and ice have been relatively scarce, found it necessary to take stock of physical facilities.
Other interesting sidelights have developed. Witness the change of life and activity in the mining communities of Ketchum, in Sun Valley, Idaho; and in Alta, Utah, 30 miles from Salt Lake City, where winter skiers have almost seven months' skiing. Both places had been booming mining towns. Millions of dollars in gold, silver, copper, and lead had been mined. As the ore petered out, residents moved on to more fertile fields. Only a few stayed to mine the little remaining ore or engage in some phase of agriculture or cattle raising. Then overnight, these almost abandoned communities sprang to life. Trains, airplanes, and automibles brought hundreds of visitors to engage in winter sports. The residents heralded this activity as a new bonanza. Other communities and chambers of commerce insisted that excellent potentialities were available at their own back doors. Experts were engaged to make surveys. In many cases the dominating factor was of a commercial nature. Over a billion dollars is expended annually by winter sports enthusiasts for apparel, equipment, and other incidentals.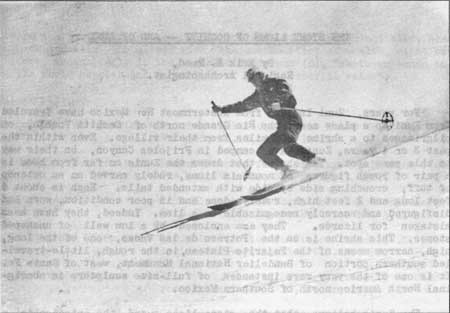 JUST OUT OF TOWN, IN OLD SANTA FE.
In making a survey or taking stock of existing and potential winter sports facilities, attention also must be focused on the work of the National Park Service, the United States Forest Service, the Civilian Conservation Corps, and other federal agencies. In the western sections of the United States, many of the most desirable places for outdoor activity are on federal land. In many places, too, otherwise suitable areas are inaccessible or too far removed from the using public. Thus, a more careful study had to be made to determine which of the desirable areas would be used, if developed.
Probably the two most popular forms of winter sports are skiing and skating. Both have become exceedingly popular within the last six or seven years. Organized skiing as a sport in this country is about fifty years old, but it never had general popular appeal until about six or seven years ago. It was limited naturally on the one hand by terrain and climate; and it was limited also by an indifferent public. Previously, jumping and tournament events were the nevwsreel cameramen's delight, but the breath-taking nature of jumping left John Public with the impression that skis were dangerous implements. There were numerous skiers in the mountains of New England, the hilly regions of the North Middlewest, and the high snow fields of the West. But the beginning of the new ski era in this country can be set at about 1931-32, the year of the winter Olympics at Lake Placid, New York. In the following years, skiing and other winter sports won thousands of converts. These new converts demanded and got increased sports facilities. Many summer hotels in the mountains began to stay open throughout the winter. Winter inns and hotels were constructed. Snow train and snow plane services were started.
The number of ski addicts in the United States is unknown, but those numbers can be imagined from the fact that in Seattle alone there are reported to be between twenty and thirty thousand. Many of our skiers may be only "meadow skiing", or you may see them at some more "hazardous" place, poised to leap off a bank or short slope. If there are hills within easy distance, these skiers may spend a weekend in the country, stopping in a farmhouse, tourist home or cabin. If they have better than average economic resources, they may go to more remote and expensive winter resorts; From the East, to Lake Placid and the inns of the Adirondacks, Berkshires, and White Mountains; from the Middle West, to the Rockies; and from the West coast, to Mount Rainier, Lassen, and Yosemite National Parks. There are ski or winter sports clubs in almost every western college and in many cities and towns. Many employers and employes vacation in Winter instead of in Summer. You will find stenographers, clerks, lawyers, businessmen and housewives "bitten by the bug." For many years, New York State's Bear Mountain Park, one of the most popular public areas in the East, has provided facilities and equipment for thousands of winter sports addicts.
Until the last few years there have been more skaters than skiers. Skating, in a sense, is like swimming or riding a bicycle: Once you acquire they technique, you never forget it. On the frozen ponds and rivers of New England; on the lakes and bays of the north Midwestern states, or wherever there is a body of ice large enough to turn around on, rural boys and girls have felt the joy of gliding along, with winter winds a-blowing. In some cities, youths have used garden hose to flood vacant lots and fields, and then waited for freezing weather. Cities like Minneapolis, St. Paul and Milwaukee, and Newton, Massachusetts, and others have for many years done much to provide skating rinks in their parks and on the playgrounds. Skating and ski tournaments and contests have played an integral part in numerous winter sports carnivals conducted through the Midwest during the past 20 years.
Many Americans have never seen an ice rink, nor owned a pair of ice skates. They may have heard Granddad, who was reared "back east", or "up north", tell of the fun he had as a boy; of some of his adventures on "rubber", or thin ice. But times have changed since Grandpa's heyday. Mechanical refrigeration, the movies, and the much publicized ice shows have made the entire country skating conscious. Now contrivances have made skating rinks possible in any climate at any time of the year. Ice hockey, which has been called the fastest game in the world, has also done considerable to stimulate interest in skating. It is estimated that about 17,000 pairs of rocker, or figure skates, were sold in this country in 1938, in addition to about a quarter of a million tube skates.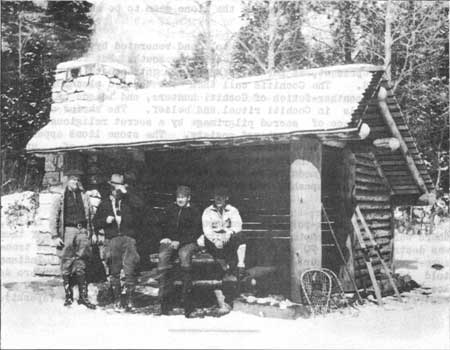 CCC-BUILT SHELTER IN HYDE STATE PARK.
Thousands of persons neither skate nor ski, yet derive enjoyment from tobogganing, coasting, snowshoeing, iceboating, or possibly hiking in the snow. The most significant fact is that the individual derives a certain satisfaction from whatever he or she does. This effort, in many cases, is for exercise, but generally it is for good wholesome fun. Those who plan winter sports facilities for this new group of recreationists must recognize that everyone does not like to do the same thing. A variety of winter sports recreation opportunities and facilities multiplies the individual's interest and participation.
The Southwest has shown increased interest in winter sports activity. Winter sports clubs and other forms of group organization have sprung up in many communities. Membership in these groups is usually open to the public, upon payment of a small fee. Meetings are held to promote interest in development of new facilities, raising funds for ski tows, making areas more accessible by improving and keeping roads cleared of snow, or organizing contests and tournaments. Occasional parties and other socials are planned. In the Santa Fe of four years ago there was no winter sports club; there were no skiing or coasting facilities except on a very small scale. Attempts had been made periodically to construct a skating rink. A handful of ski enthusiasts organized a winter sports club. Interest spread. The National Park Service and the State Park Board developed a ski run and ski field in Hyde State Park, 7 miles from Santa Fe, in the Sangre de Cristo Mountains. The work was done by the Civilian Conservation Corps. Use became so extensive that the field was extended. The C.C.C. now is completing a plate glass fronted Lodge, facing the ski area. The Lodge has three lounges, each with fireplace. There is a lunch-room, toilets, lockers, and a combination room that can be used for first aid and for ski-waxing. There is a flagstone terrace immediately in front of the building, with seating accommodations for 200 people. This terrace is enclosed by a guardrail, at the base of the ski run. The Lodge will be for year-round use.
A permanent ski tow also is being installed. The Winter Sports Club contributed approximately $1,300 to the State Park Board toward the purchase and installation of this equipment. The tow, like all other facilities in the park, is for general public use.
Only 60 miles away, in Albuquerque, is another enthusiastic winter sports organization. Excellent skiing facilities have been developed by the United States Forest Service in the nearby Sandia Mountains. The Forest Service also has developed winter sports facilities in other New Mexico areas, such as near Taos, Ruidoso, and Las Vegas; and near Flagstaff, Arizona. Less than 300 miles south of Flagstaff, and only six hours away by automobile, are hundreds of seasonal residents and tourists who spend the winter "summering" near Tucson and Phoenix where oranges and grapefruit are being harvested. This short distance between the irrigated desert country, with its citrus fruits, and the snow covered mountain area with its winter sports, provides an interesting contrast to Southwest life.
The idea of snow sports in California comes to many recreation enthusiasts with a bit of surprise. This "Sunshine State" does not, in one's imagination, lend itself to such developments as ski huts, snow trains, and an American St. Moritz. But there are snow covered mountain ranges over a mile high in both Northern and Southern California, and many Winter sports areas have been developed.
So let it snow, let it blow. Let it be cold and crispy. Six months of approaching winter with its three feet of snow hold no terror for us now. It means lots of fun, exercise and recreation. No longer do we Americans have to take our recreation "sitting down" - unless it be while skating on the ice or skiing on the snow.