---
Survey of
Historic Sites and Buildings
Wheatland
Pennsylvania

Wheatland

Lancaster County, 1120 Marietta Avenue (Pa. 340), on the western outskirts of Lancaster.
James Buchanan lived at Wheatland for the last two decades of his life. During that period, in 1856, it was the scene of one of the early "front porch" campaigns for the U.S. Presidency.
In 1828 William Jenkins, a wealthy Lancaster banker, built "The Wheatlands" (later shortened to Wheatland), which he named for its vista of waving wheatfields. In 1845 William M. Meredith, a prominent Pennsylvania lawyer who was later to serve as U.S. Secretary of the Treasury, purchased it. Three years later, James Buchanan, who at that time held the office of Secretary of State, bought the estate. It then consisted of the house and a 22-acre tract. From there, in 1856 he conducted a "front porch" campaign for the Presidency. Wheatland became its symbol, and in many areas Buchanan supporters formed "Wheatland Clubs" to promote his election. Successful in his bid, he served one term (1857-61) in the White House and then returned to his estate to pass his remaining years. He died there in 1868 and was buried at the local Woodward Hill Cemetery. Subsequently, several owners held the residence before its acquisition in the 1930's by the Junior League of Lancaster, which later organized the James Buchanan Foundation for the Preservation of Wheatland, the present owner.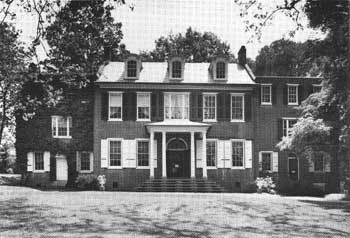 Wheatland. (National Park Service, Mel Horst Photography, 1976.)
A large brick structure, Wheatland combines Colonial and later architectural features, but possesses a basic Georgian-style symmetry. The 2-1/2-story central section, with a central hall and matching rooms on either side, is flanked by three-story wings. The rooms total 17. The front of the main section is dominated by a Doric-columned porch; steps on three sides lead up to the entrance. Few changes have occurred over the years except for some interior improvements made by Buchanan. These included installation of a furnace and central heating, replacement of the open hearth in the kitchen by a cast-iron stove, and addition of such conveniences as a tin bathtub.
The rooms on the first two floors have been furnished with appropriate period pieces. Many of the items, especially those in the library, belonged to Buchanan. First-floor rooms include the "warming" kitchen, breakfast room, dining room, parlor, and library. From the central hall, a stairway ascends to the second floor, which contains bedrooms, dressing rooms, and a museum room exhibiting memorabilia of Buchanan. He died in a plainly furnished backroom on this floor. On the third level are five unrestored rooms that originally quartered servants.
Wheatland today consists of the well-preserved house and about 4-1/2 acres. Hostesses costumed in period dress conduct tours. The grounds are attractively landscaped. Outbuildings include the old smokehouse-icehouse and a stable now used for other purposes by the Junior League of Lancaster. The original water spring, Buchanan's favorite retreat, may still be seen.
---
http://www.cr.nps.gov/history/online_books/presidents/site54.htm
Last Updated: 22-Jan-2004