---
Survey of
Historic Sites and Buildings
Kennedy Compound
Massachusetts

Kennedy Compound

Barnstable County, Irving and Marchant Avenues, Hyannis Port.
The Kennedy Compound consists of about 6 acres of waterfront property along Nantucket Sound. It contains the homes of Joseph P. Kennedy and two of his sons, Robert F. and John F. During the late 1950's and early 1960's, the latter utilized the compound as a base for his Presidential campaign and as a summer White House and Presidential retreat until his assassination in 1963.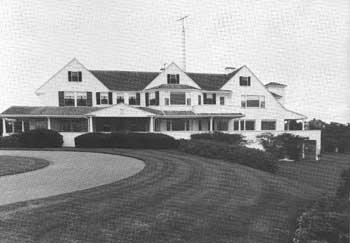 Joseph P. Kennedy summer home. (National Park Service, Stoughton, 1972.)
In 1926 Joseph P. rented a summer cottage on Marchant Avenue in Hyannis Port. Three years later, he purchased the structure, which had been erected in 1904, and enlarged and remodeled it to suit his family's needs. In and around this house, the children spent their summers, acquiring a lifelong interest in sailing and other competitive activities. In 1956, or 3 years after his marriage, John F. bought a smaller home of his own on Irving Avenue, not far from that of his father. Subsequently, Robert F. acquired a residence adjacent to the other two.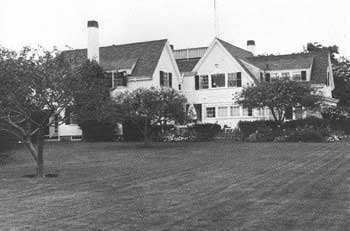 Joseph F. Kennedy residence by Hyannis Port. (National Park Service, Stoughton, 1972.)
All three buildings, none of which are accessible to the public, are white frame clapboarded structures typical of vacation residences on Cape Cod. The Joseph P. Kennedy home, the largest and most impressive of the three, is surrounded by well-tended lawns and gardens and commands sweeping views of the ocean from its long porches. On the main floor are a living room, dining room, sun room, television room, the bedroom that President Kennedy used before he purchased his own house in the compound, the kitchen, and various pantries and utility rooms. On the second floor are six bedrooms, a sewing room, packing room, and four servants' bedrooms. The attic is a full one. The basement contains a motion-picture theater and sauna. On the grounds are an enclosed swimming pool, tennis court, and four-car garage. The house has changed little, either structurally or in furnishings, since John F. Kennedy's association with it.
| | |
| --- | --- |
| | |
---
http://www.cr.nps.gov/history/online_books/presidents/site30.htm
Last Updated: 22-Jan-2004