---
Survey of
Historic Sites and Buildings
Springfield
Kentucky

Springfield, Kentucky

Jefferson County, 5608 Apache Road, Louisville.
Zachary Taylor lived at Springfield, his boyhood home, until the beginning of his military career in 1808, was married there 2 years later, and probably returned periodically until the death of his father in 1829.
In 1785 when Taylor was less than 1 year old, his father, Richard, moved from Orange County, Va., to a 400-acre farm on the Muddy Fork of Beargrass Creek, about 5 miles east of the village of Louisville. The family at first lived in a small log structure, but within a few years construction of Springfield began; it was erected in two stages, ca. 1790 and 1810-30. A brick house, more substantial than most on the frontier, it had 2-1/2 stories and a basement. The basement provided quarters for servants; a large central hall divided the first floor into twin parlors on the east, and dining room and kitchen to the west; four bedrooms occupied the second floor; and quarters for coachmen comprised the third floor, an unfinished attic.
As a boy at Springfield, Taylor received minimal formal education, but he was physically active. When not assisting his father in caring for the farm, he learned to ride, shoot, and hunt—skills that prepared him for a military career. By 1800 his father, who had become one of the more prosperous settlers in the vicinity, had increased his landholdings to 700 acres and owned 26 slaves.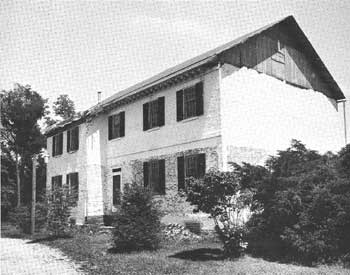 Springfield, Kentucky. (National Park Service, Lin Caulfield, 1976.)
Young Taylor lived at Springfield until 1808, when he received a commission as first lieutenant in the 7th U.S. Infantry. In 1810, while on leave, he was married in the home, which was also probably the birthplace of several of his children. In 1815 he retired from the Army and took up farming on a 324-acre tract on Beargrass Creek that had been given to him as a wedding present. During that time, he may have resided at Springfield, but within a year returned to military life. Thereafter, he only visited it occasionally while on furlough.
In 1829 Richard Taylor died and Hancock Taylor, Zachary's eldest brother, either purchased or inherited the estate. Following Zachary's death in the White House in 1850, his body was brought back to Springfield and interred in the family burial ground, which later became the nucleus of Zachary Taylor National Cemetery.
Since passing out of the hands of the Taylor family, Springfield has had several owners. It now occupies a small plot that is surrounded by a housing development. Notable original features of the residence include the door locks and window glass. Each of the eight rooms is equipped with a fireplace. The walnut paneling and doors in the entrance hallway and dining room have been restored to their original finish. The two-story rear porch may date from the original construction or from the 19th century, when one-story side and front porches were added. The latter two porches have since been removed. A tornado in 1974 substantially damaged the house, which is not open to the public, and its private owners are now restoring it.
---
http://www.cr.nps.gov/history/online_books/presidents/site25.htm
Last Updated: 04-Feb-2004