---
Survey of
Historic Sites and Buildings
Grant Home
Illinois

Grant Home

Jo Daviess County, 511 Bouthillier Street, Galena.
At the end of the Civil War, the citizens of Galena, Ill., to demonstrate their appreciation for the achievements of their hometown war hero, Gen. Ulysses S. Grant, presented him with this handsome residence. Because of official duties and his preference for various other homes he maintained in the East, however, he used it infrequently, most notably during his victorious first race for President in 1868.
In 1860 Grant, who had resigned from the Army and failed in farming and business ventures in and near St. Louis, went to work in a family-owned leather goods store in Galena. He lived a relatively quiet life there until the outbreak of the Civil War the next year, when he returned to active service as colonel of the 21st Illinois Volunteer Infantry. Earlier, he had acted as a drillmaster for local volunteers.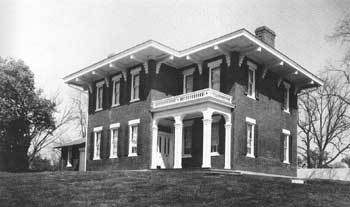 Grant Home. (National Park Service, Hruska-Kray, 1976.)
When Grant returned in triumph in 1865, the residents of the city awarded him this furnished home overlooking the Galena River and affording a commanding view of the city. A two-story, Italianate structure of brick, it had been built in 1859-60 by Galena's former city clerk Alexander J. Jackson. The house featured wide overhanging eaves supported by large wooden brackets, a low-pitched roof, white wood trim, and green shutters. A columned and balconied piazza adorned the main entrance, at the southeast corner. The kitchen was in a one-story, rear wing.
After completing his second term as President in 1877, Grant resided temporarily at Galena, but soon began an extensive world tour (1877-79), after which he again stayed for a short time in the residence. After settling permanently in New York City in 1880, the Grants rented it out until his death 5 years later.
In 1904, his son, Gen. Frederick Dent Grant, deeded the house to the city for preservation as a memorial to his father. In 1932 the State acquired the structure, by which time it had fallen into disrepair, and in 1955-57, utilizing the original plans, restored it to its historic appearance.
The home is furnished with period pieces and Grant family items. Among the latter are china and silver used in the White House, Grant's favorite armchair, military trophies, and souvenirs acquired on the world tour. Also exhibited is a carriage he used during his Presidency. A small brick building to the northeast of the residence contains additional exhibits; it was constructed at the time of the restoration. The property is a State memorial.
---
http://www.cr.nps.gov/history/online_books/presidents/site17.htm
Last Updated: 22-Jan-2004